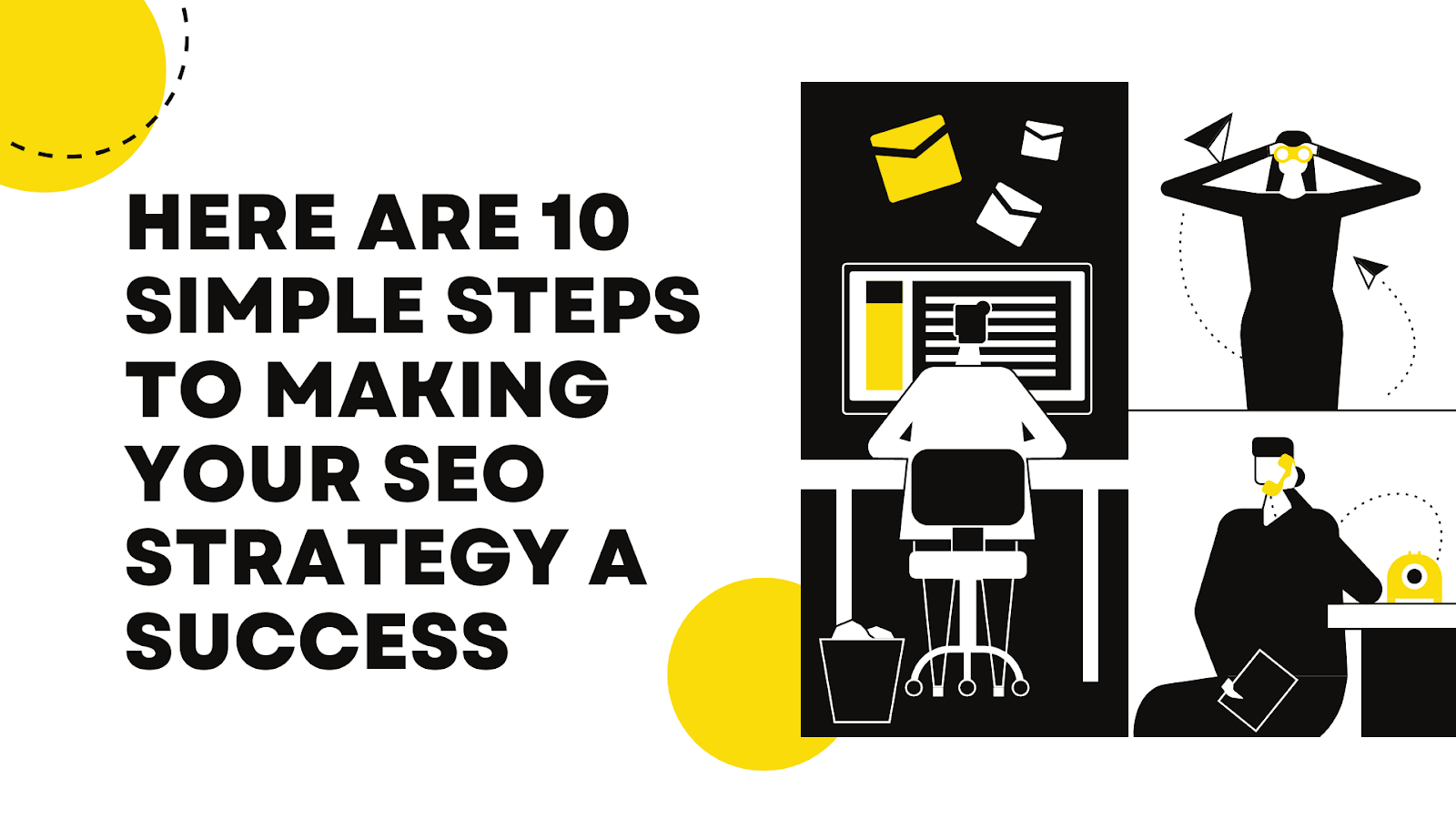 Building a successful website and online business requires proper investment in search engine optimization. And the best way to get your SEO right is by having an effective strategy. But creating an effective SEO strategy might not be as easy as novices think.
There are several steps that you should keep in mind when doing this. That is what this article is all about; helping beginners understand what an SEO strategy entails. It will take you step by step through developing your SEO.
Here's everything you need to know.
The Importance of an SEO Strategy
The first step before going into the details should be to understand why an SEO strategy matters. An SEO strategy is a plan to make your website more appealing to search engines. The aim of having an SEO strategy is to increase your website's visibility and traffic.
However, there are many reasons why SEO strategies are worth having. This section will explore some of the benefits of having an SEO strategy for your business. Read to the end to decide whether an SEO strategy will be an excellent investment for you.
Here are some of these benefits:
Targets quality leads: You can ensure that your business generates the best leads by having SEO strategies. It will help boost your lead targeting and ensure you get more conversions.
It is inexpensive: SEO strategies don't require paying for ads. You only need to make the initial investment in your SEO strategy; you won't incur any ongoing costs.
Attracts more clicks than PPC – Pay-per-click ads might appear above organic ads, but that doesn't make them attract more clicks. 71.33% of people click on the first organic result.
It helps with PR: SEO and PR might seem completely different marketing strategies. But then, you can use your SEO strategy to build links for your business.
Developing a Successful SEO Strategy
So, what are some of the white hat strategies that you can use to grow your SEO? This section will explore some of the best techniques to create an effective SEO strategy. You will also find it easier to create a priority list of the best SEO strategies you'll start implementing.
Here are some of the best SEO strategies to use:
Begin with a Website Audit.
Running a website audit should be the first step toward developing your SEO strategy. We cannot overemphasize the importance of a website audit to marketing professionals. You can use it to know what is working for your website and what you need to change urgently.
You can also use a website audit to identify the strengths and weaknesses of your website. It will also be easy to check whether your website is in line with the current SEO trends. You can do a website audit or work with SEO experts who can do it for you at a fee.
Set Your Objectives Correctly.
It is important to have goals for your website. Otherwise, you might never be able to direct visitors to do the right thing on your website. For instance, you can review how much traffic your website is getting during your audit. Then, you should plan to increase this traffic.
Also, it isn't a good idea to only focus on generating leads for your business. You also have to ensure that you have the goal of ensuring that they convert. In short, having a goal in all you do is one of the most important SEO strategies that you need to keep in mind.
Know Your Targets
Setting targets will make it easier to reach your desired goals. You must identify the KPIs you will be looking at to determine how well you are moving toward your target. Using measurable data will make it easier to know if you are progressing in your SEO.
Some of the key performance indicators that you can have include your monthly visitors and the number of new visitors. You can also check the number of inquiries through your website and how much traffic you are getting. The KPIs differ depending on the kind of website you have.
Begin By Conducting Keyword Research.
It will be vital to also invest your time in ensuring you produce high-quality content. One way to create content that resonates with your needs is through keyword research. With this research, you will be able to use the keywords that answer your audience's questions.
Thankfully, there are software tools that you can use for your keyword research. You need to start by finding the right set of software tools for your business. That will enable you to ensure your website copy delivers the desired results and also boost your SEO strategy.
Identify and Research Your Competitors
Your competitors can be your undoing when it comes to building a website. It is vital to ensure that you understand what your competitors are doing. You need to start by identifying them and researching their SEO strategies to know what they do better than you.
That will make it easier to develop an SEO strategy that will beat theirs. You can also begin researching their marketing strategies to ensure you don't lose out to them. Your business will easily thrive in the market, even amid high competition.
Start Creating Content
One of the important steps in your SEO strategy is content creation. You must create high-quality content that meets your target audience's needs. The more valuable your content is, the more results it'll bring. For instance, it will ensure you bring in new leads.
However, your content needs to be well-optimized for your audience and search engines. You need to ensure that the content specializes in what your business sells. This will make it easier to ensure you get the desired results from your content creation.
Incorporate Backlinks into Your Strategy
Backlinks play a critical role in the success of any content marketing strategy. It is vital to ensure that you have them embedded in your web copy. Backlinks will help bring in more traffic from competitor websites. However, you need to know how to acquire backlinks.
There are various ways to do this, including through guest posting, looking for brand mentions, etc. It will be easy to build a good backlink profile and improve your SEO strategy if you take the time to find high-quality backlinks. These elements will make it easier to grow your website.
Provide Outstanding User Experiences.
The user experience you provide to your audience can make or break your SEO efforts. It is vital to make positive user experiences one of your marketing strategies. You can easily bring in new customers by providing existing ones with high-quality services.
That way, you will easily build a loyal customer base for your business. It will also be easier to ensure that you get referrals for your business if people love the quality of services you provide. In the end, you will increase your target audience and boost conversions.
Monitor Your Progress
It is vital to keep track of your progress as a business owner. There are many ways to keep track of your progress. Setting the right goals for your company has already been mentioned. You can use these goals as milestones to help you track how far your business has come.
We also mentioned why having targets for your business is critical. The KPIs you set earlier will make it easier to know how much progress you have made. They will also help you identify areas that require improvement, which will make it easier to ensure that your business grows.
Begin Seeing Results
The last step in creating effective SEO strategies is starting to see the results. This should be the step that tells you if you are making any considerable steps toward your success. As you know, building a successful SEO strategy isn't easy. It takes a lot of time and effort to do it.
This is why you need to take time before starting to measure your results. The more you work on it, the better the results you'll get. This is why you should start by looking into the new developments that have happened in your business so that you know your next steps.
Those are some of the best white hat strategies to grow your SEO. You won't go wrong with ensuring that your SEO reaches the desired heights if you use the insights shared above. It will be easier to get your website to the desired rankings on SERPs.
Conclusion
You now know everything important to note about creating an SEO strategy. If you are planning to get started from scratch, then this article can be an excellent guide. It can also be an effective resource for anyone looking to revamp their existing SEO strategy.
You don't need to look any further if you are looking for the best SEO strategies for your website. What's left is to compare these strategies to ensure you know which will work best for you. Then, start by implementing the SEO strategies that you feel will deliver good results.