You want to create more content, but you're not a writer. Or maybe you are a copywriter and want to write more content faster? Copy.ai is an AI copywriting tool that automates the creation of high-quality content for blogs, websites, products, etc. Copy.ai leverages OpenAI's Generative Pre-trained Transformer 4 (GPT-4) artificial intelligence model to help marketers create a more unique copy.
Most of the AI copywriting tools use the same GPT4 APIs to generate unique content. If you are looking for an inexpensive alternative to expensive AI writing tools like Jasper AI or Copysmith then Copy.ai is the answer for you. The best thing I liked about it is that they offer a free trial without even a credit card.
Writing is hard and time-consuming. It's also expensive if you don't have the skills or the budget to hire a copywriter. Copy AI Helps You Create Unique Content Faster Than Ever Before!
What is Copy.ai?
Copy.ai is a content generation tool that uses AI to write blog posts, social media posts, and more. Copy.ai uses GPT-3, an advanced AI that was created by OpenAI. The tool aims to help companies with their content creation for marketing purposes and other types of writing.
Who should use Copyai?
All the time you spend on content creation can be better spent actually marketing your product.
Forget about hiring a copywriter or doing it yourself – Copy AI automates the process and creates high-quality articles for your blog, website, products, etc.
Copy ai is ideal for bloggers, marketers, startups, agencies, copywriters, and content marketers.
What does CopyAI do? My Review
It's an AI copywriting tool. It writes content by using a machine powered by artificial intelligence technology.
Chat by Copy.ai (ChatGPT alternative)
Chat by Copy.ai is the perfect ChatGPT alternative for businesses that need up-to-date information. With its real-time data access, businesses can quickly and easily generate personalized copy for sales outreach, scrape websites for public data, summarize YouTube videos, and learn how prospects engage on LinkedIn.
Here are some of the benefits of using Chat by Copy.ai:
• Accurate citations: Chat by Copy.ai returns fresh, relevant results with accurate citations, ensuring you get the most reliable information possible.
• Real-time data access: You can access real-time data from websites and social media, without having to manually search for it.
• Generative AI: Chat by Copy.ai combines the power of Google's search with the generative AI of ChatGPT, allowing you to generate personalized copy and content quickly and easily.
• Easy to use: The user interface is intuitive and easy to use, so you can get up and running quickly.
Chat by Copy.ai is the perfect tool for businesses that need up-to-date information and powerful AI-driven content creation. With its real-time data access, accurate citations, and easy-to-use interface, it's the perfect alternative to ChatGPT.
Create high-quality blog posts
Write your article with a powerful AI system. Your readers stay engaged with your articles Note: You're not writing this For yourself, but rather for your audience. Keep them interested throughout the entire article.
Important Parts of Blog Post
Blog Titles, Ideas, Outlines
Blog Intros
Bullet Points to Full Blog
Write product descriptions
Product descriptions are one of the most important parts of your online business. This is because it not only helps you to show what your product is about and what it can do but also builds trust in relation to the product.
Copy.ai will provide you with a detailed description of your product. Your copywriting should focus on your audience, and what they would like to know about the product before they purchase it.
Write Product Descriptions For Amazon with Copy AI
If you're selling your products on Amazon, you can use this tool to come up with a good product description so as to rank well on Amazon. Generate quality product descriptions using the AI Copywriting tool.
With Copy ai Product description feature you can write:
Product Descriptions
Product Benefits
Microcopy
Write SEO-optimized content
SEO-friendly content is content that will rank higher on search engines. Google and other search engines love content. If you write well-researched and formatted content, your chances of getting it ranked higher will be higher.
However, when writing an article or blog post with a powerful AI system like Copy AI for content marketing becomes easy. Advantages of using Copy AI include; saving time in the process of writing, faster creation of high-quality articles, keeping readers engaged, and providing them with valuable information.
Write PPC Ads
If you are a PPC marketer, you often end up writing ads for a campaign. Copy AI helps you not just write the ad copy but also create new ads that are unique and will help the conversion.
You can write copy for the following platforms
Facebook Ads
Google Ads
Linkedin Ads
Write Social Media Content
Now writing photo captions and Instagram post is just a click away, you can use the templates for the following things:
Captions
Instagram Posts
Brainstorm Topics
Write Website Content
Content is king! If you have a website you should write a better copy for the website. The copy should be unique and engaging. It should also encourage your readers to connect with you or take action.
With the Copy ai Website content feature, you can write
Hero Text
Subheaders
Meta Descriptions
Sales Copy
The challenge of writing a sales copy is that it has to be persuasive and convincing enough for the reader to buy the product. Due to this, most people try to hire freelance copywriters but this does not always work out. You can write your sales copy with this tool. Yes you are right, you can write using the techniques below
Pain-Agitate-Solution (PAS)
Before-After-Bridge (BAB)
Attention-Interest-Desire-Action (AIDA)
Generate creative ideas
Copy ai Chrome Extension
This chrome extension is a real time saver. No other copywriting tool offers a chrome extension. This is the plus point. I have seen people requesting this little tool for their AI tools on Reddit.
Copy ai Facebook Community
There is an active Facebook Group to discuss how you are using the tool or if you need any help.
Our Verdict on Copy.ai
In order to make your copywriting process better and more efficient, Copy.ai is a must-have tool. It provides you with a solution to all your content creation problems and it can also help you get more leads with its Facebook ad creator.
Copy.ai is a valuable tool in the content marketing industry. It helps marketers, copywriters, and bloggers by offering them the easiest way to get their work done. With this tool, it becomes easy to create quality content in just a few minutes. Whether you want to write: Product Descriptions, Sales Copy, PPC Ads or Social Media Content-you can do so with ease. You can try a risk-free trial, you have nothing to lose.
Try Copy.ai for Free! No Credit Card is required!
Copy.ai Pricing
Copy.ai offers a free forever plan and a paid plan which starts at $36 per month. On the free plan, you get 2000 word credits per month, while the paid plan offers unlimited requests each month.
| | |
| --- | --- |
| Free Plan | Pro Plan |
| $0/mo | $36/mo |
| 2000 words per month | Unlimited credits |
| Unlimited Project | Unlimited Projects |
| Chat by Copy.ai | Chat by Copy.ai |
| 90+ Copywriting Tools | 90+ Copywriting tools |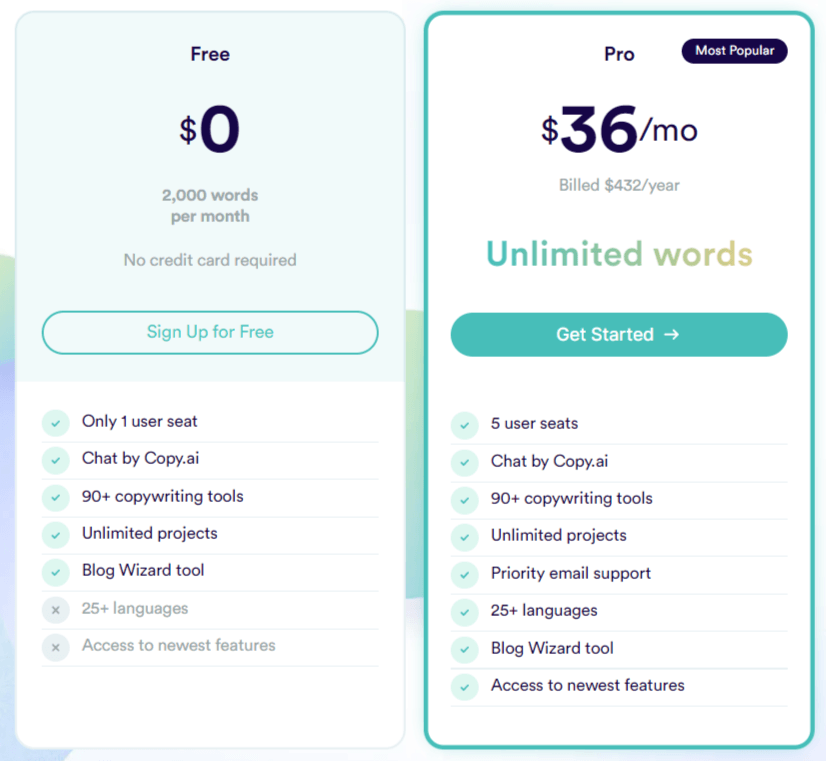 How can I get a copy AI for free?
Yes, You can get a Copy AI free-forever account that gives you 10 runs per month.
Does copy AI use GPT4?
Yes, it does. It uses the advanced AI system GPT4.
Will AI replace copywriters?
No, certainly not. It never will. AI will just help writers to be more efficient and complete work faster than before.


Copy ai Review: Free Trial Forever