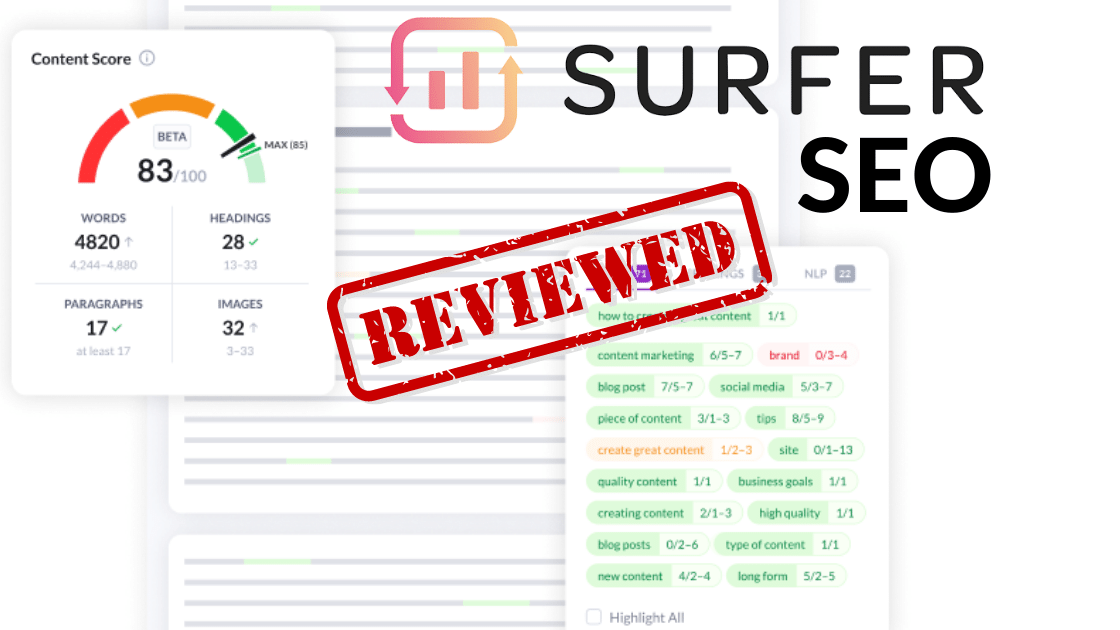 We will review SurferSEO and see how this AI-based on-page content optimization tool can help you outrank your competitors!
Who am I?
I have been working as an SEO expert for the last 10 years. I have helped many companies with their search engine optimization efforts and improved their performance in the SERPs. I have been working on several projects including providing a detailed analysis of the website and identifying issues that lead to poor rankings so I can fix those issues. I also guide for creating optimized content to improve the rankings on Google search results pages (SERPs).
In this review, I will analyze the SurferSEO and see if it works. SurferSEO is an on-page content optimization tool that uses AI to determine what are the most relevant words or phrases for a given topic and analyzes top ranking pages in Google.
What is SurferSEO?
SurferSEO helps you to create content that ranks. The tool analyzes the top ranking pages in Google for your primary keyword and finds out what you need to outrank them. The AI-based tool suggests to you how many words you need to have in your article, How many headings, subheadings, and images you would need. You can do all this research manually like in the old days spending a whole day for 1 research or you could do all these in just less than an hour.
Having been through many on-page optimization tools, I wanted to review this one because it was designed specifically for people like me who are trying to optimize the client's site to rank on the first page.
A good way to increase your search engine rankings is by using a service like SurferSEO.
Are you being left in the dust by your competitors when it comes to ranking in search engines like Google? You may have just been overlooking the power of an excellent SEO campaign. SEO starts with keyword research and ends up with Off-page optimization aka backlinks.
Content Editor:
The content editor is the main feature that is Surfer is known. If you have used the RankMath SEO plugin for WordPress, you can relate the content editor with RankMath. Surfer has many other features too. In fact, it's all-in-one research, content optimization tool. Since this is the main feature, you will be spending more time using the content editor. You should always try to get a 70 or above score in the content editor.
The scores are based on content Structure like the length, the number of paragraphs, headings, and images count to get the high score in structure.
What is NLP SEO?
NLP refers to Natural Language Processing. Google's algorithm uses NLP to understand the content and rank for the keywords. Hence NLP is a very important factor if you want to rank your blog or website.
Surfer SEO has NLP inbuilt so it will help to rank the content.
Getting your website to rank well on search engine pages like Google can be a difficult and time-consuming process. Today, SEO is much more than keyword density. In fact, you need to have an excellent content editor that analyzes what phrases are most relevant for your topic and gives you the guidelines you need to create, publish and optimize content. SurferSEO does all this work for you by using AI and providing data on how many words, headings, subheadings, and images you'll need to rank on the first page.
Beside the Guidelines tab, you will find the Brief Tab on the Content Editor. If you outsource your content creation task to copywriters, this is the place to brief your writers about what you want
Share benchmarks
Let your writer know about the deadline
Define tone, target group, and goal of the content
Mention the competitors
add related questions for FAQs etc.
Content Planner
What if you were fed up with the never-ending process of trying to come up with content ideas for your focus keywords? What if there was a tool that could do it all for you? Is surfing the web just too much of a hassle for you, not to mention that the keyword research process can be time-consuming?
Surfer is a powerful new tool that brings together all of your keyword data from multiple sources and suggests the best-fit content ideas for your blog. This way, you don't need to go through every website yourself to get some good article topics. The Content planner helps in planning your blog content a month ahead of time.
SERP Analyzer
If you're running a website, you don't want to find yourself on page 10 or lower of Google's search results for most keywords. You need to plan and execute your strategy with high attention to detail because every little factor counts.
For example There are factors such as text length, number of headings, word density, and the structure of your meta tags that can dramatically affect your ranking position on Google's SERP. But how do you know these things?
That's where the SERP Analyzer tool comes in handy! SERP Analyzer points out common patterns from top pages so you can ditch manual work when optimizing content. It's based on 50 pages and 500+ factors and gives you reliable information on what is working right now for your specific keyword.
SERP Analyzer covers the following:
Text length:
The number of words you have in your text is an important factor when it comes to SEO. If you have too little, it can potentially be a sign that you are writing content that doesn't answer users' questions, which can negatively affect its ranking. On the other hand, if you have too much text it may be an indication that you are doing duplicate content or keyword stuffing to try and manipulate Google's search rankings. SERP Analyzer points out how many words the top 10 results in Google contain.
Number of headings:
Headings make it easier for users to scan and read a web page. When multiple headings are used, they allow users to understand the structure of the page and focus on key points. While a limited number of headings can be effective for pages with clear content, too many headings may make it difficult for users to find what they are searching for. SERP Analyzer points out how many top 10 results use various numbers of headings.
Number of links to the page:
The number of external links that point to a web page is an important factor in SEO. The more sites that link to your pages, the higher the chances you will rank higher on search engines results pages (SERP). Not only does the number of outbound backlinks point to a page, but it also serves as an indication of the strength of your content and its popularity.
Keyword density:
Keyword density is a metric that is commonly used to evaluate the effectiveness of your content's optimization. There are different opinions on what keyword density percentage should be. SERP Analyzer points out what percentage of top 10 results have the same keyword density as your focus keyword and how it compares to your target keyword's density.
NLP Sentiment:
NLP Sentiment is an indicator of the positive or negative nature of content for a particular search query. SERP Analyzer points out how many top 10 results have positive, neutral and negative sentiments regarding your focus keyword. This allows you to understand whether competitors are having a high or low score in terms of user reviews. This factor is one that most people usually skip, but shouldn't!
Remember that it's not just what you say but how other people perceive your content.
NLP entities:
With so much information on any given web page, it is very easy to overlook some important details. The NLP Sentiment tool can help you understand how many top 10 results have covered specific keyphrases (i.e., locations, names, products, etc.).
Meta tags structure:
Meta tags provide useful information about a web page to both search engines and users. Meta tags can define your page's description, keywords, author and contact details, and link back to other pages on your own site or elsewhere on the web.
SEO Audit Tool
Are you looking for a tool that will help make your website SEO more effective? Surfer's SEO Audit is an easy-to-use, data-driven analysis, and optimization tool. Here are some of the features:
Gives you information about how many links point to the URL
Provides estimate on how much content is needed to achieve an optimum rank in search engine optimization
Reports on related pages that you should link from
Provides a step-by-step recipe for higher rankings in search engines based on data from your organic competitors
Finds out if your page has enough content or not
Helps you find important terms and keywords to use for your website
Keyword Research
Keyword research is an important process in SEO. You need to make sure you're targeting the right keywords with your content and on-page SEO because it will be the driving force behind your search rankings.
I am not very fond of Surfer's keyword research but it does the job. Since it's included in the Surfer you don't need any extra tool just for keyword research.
Content Editor Extension
This could be a real-time saver tool for many. You can integrate the main content editor feature with your WordPress or Google Docs as per your need and requirement. I prefer writing content in Google Docs rather than writing it directly in WordPress. Once the content is done, I can copy and paste it into WordPress Post.
Why use SurferSEO?
SurferSEO is the perfect tool if you need to optimize your content. It speeds up SEO research by checking the top ranking pages in Google for your primary keyword and offers suggestions about what word count you should have on each heading, subheading, or image.
Helps you write SEO optimized Content and show your content Score instantly by turning all phrases green. It gives a content grade from 0-100 based on other AI based ranking signals.
Helps you Rank for multiple keywords
Does Keyword Research using AI
Is Surferseo free?
No, but you can use some of the features for free.
Keyword Surfer
Keyword surfer is a free chrome extension. It can be used for content and keyword research. It allows you to find relevant keywords in seconds. Again this is a free tool that does the job for basic keyword research.
Surfer SEO Pricing:
Hobby: $29/mo
Basic: $59/month
Pro : $99/mo
Business: $199/mo
You can try a $29 hobby plan or you can start with a Basic plan and see if it's the right tool for you. If not you can still try it for 30 days risk-free.
SurferSEO Alternatives
There is lo of Surfer alternatives, you check out our list.
Our Verdict on Surfer SEO
SEO tools can be an important marketing tool to help you get your content seen on search engines. Surferseo has a lot of features and it's designed for both the professional blogger or business website owner. Surfer is already integrated with Jarvis but you can use it with any other AI copywriting tool.
It is easy to use and provides a coupon when you sign up for their plan. The prices are affordable and there is a risk-free trial.
Overview of the tool:
1. Easy to use
2. Shows your content score instantly by turning all phrases green
3. Gives Content Grade from 0-100 based on other AI-based ranking signals
4. Does Keyword Research using AI.
SurferSEO helps improve the content by identifying the best content opportunities and giving guidelines for super-optimized content. It is also designed to provide guidelines for optimizing on-page SEO, keyword research, and SERP analysis. The search engine optimization tool has a list of features that can help you get your website rankings even higher than before.