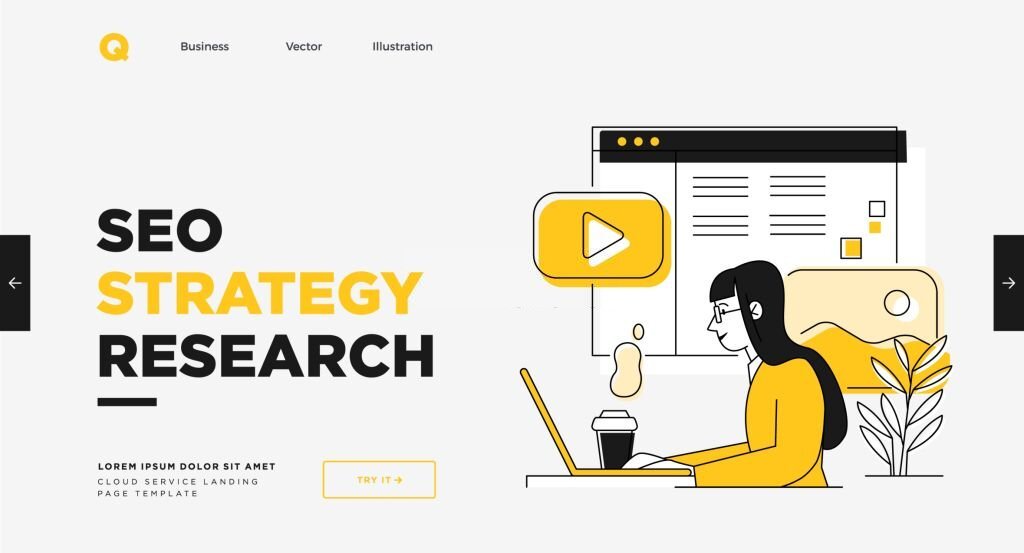 If you plan to start an eCommerce site or your eCommerce site is not getting engagement, then use these SEO strategies.
These SEO strategies for an eCommerce website will get your website to a higher rank. As a result, you will get more traffic, conversion rate, leads, and popularity. You will be able to understand what customers want and other insights like their demographic, age groups and gender, etc.
What is eCommerce SEO?
eCommerce SEO is an SEO strategy focusing on web retailers' site rankings on the internet. It allows eCommerce sites to rank higher in SERP and gain traffic to the site.
Many factors lead to the improvement of eCommerce site SEO. From high-quality content to utilizing URL structure, everything will lead to obtaining more leads, conversion, and a higher ranking in search engines like Google.
Why Does SEO Matter for Ecommerce?
There are plenty of eCommerce sites on the internet, and you want people to choose your site over your competitors. You have to improve your eCommerce site's SEO to ensure that people find your products first. People will only find your eCommerce site if your products rank higher than other products.
Optimizing your eCommerce in all the possible ways will make your site rank higher. As a result, you will get more traffic and a free source for an increase in conversion rate.
12 Best SEO Strategies for Ecommerce Websites that Actually Boost Your Traffic
Here are the best SEO strategies that you must implement in your eCommerce website.
1. eCommerce Keyword Research
Keyword research is crucial for ranking up on the search engine result page. If you do not execute keyword research properly for your eCommerce site, it harms your site's performance. Your website will be hard to rank if you choose keywords that are difficult to rank. As a result, you will get less traffic and conversions.
Ecommerce Keyword research is essential for your website, especially for eCommerce sites. With proper keyword research, you will target the right type of keywords with a decent amount of search volume and easy to rank. In addition, those keywords also have higher conversion rates.
As a marketer, you have to be more specific with your keywords to find your target market. Long-tail keywords can help you find relevant targets, meaning long-tail keywords better match what people are looking for. This also allows higher conversion rates since the traffic has searched for specific keywords that you are targeting. In conclusion, you should know that long-tail keywords are essential for competitive niches, ranking new sites, and increased conversion rates.
2. Simplify Your Site Architecture
The navigation process of your eCommerce site architecture holds a lot of importance. How you put your products and category pages ultimately results in how your website will perform. You should simplify your site architecture so that users can easily access what they want. In addition, simplifying site architecture also helps in ranking up in search engines.
Whenever you are working on your site architecture, you should follow this thumb rule. The rule is that each product page of your eCommerce site should take three or less than three clicks to reach from the homepage.
There are sites where the architecture of the website is deep and hard to navigate. As a result, the scalability of the website is difficult. In addition, website owners have to analyze and reorganize certain things whenever there is a new category or a product page to add. Having a good site architecture that has easily accessible web pages will enhance the user experience. In addition, it also ensures relevant authority to pages so that search engines can index those pages.
3. Create Unique Product Descriptions for Each Product
Many marketers and eCommerce site owners tend to ignore this aspect of eCommerce strategy. It is because any eCommerce site will have tons of similar products that it is hard to come up with unique product descriptions for each product. However, having the same product description can cause duplicity issues. As a result, your site's traffic and conversion rates will decrease.
You should create a compelling and unique product description no matter how many products you have on your eCommerce site. Moreover, it would be best if you kept the average word count of 1000+ words when creating a product description. After that, make sure you use the main keywords 3 to 5 times in the description. Add modifiers like free shipping and 60% discounts. Above all, make sure that you highlight the features of the product in a way that it resonates with customers.
Do not copy-paste product descriptions from another website because it will negatively affect your SERP ranking. In addition, your site will lose credibility and the trust factor between you and your audience.
4. Improve Site Loading Speed
Whenever people search for a certain product from the search engine, they click on the first or second website listed in the SERP. However, if that website takes more than adequate time to load, then there is a high chance that people will click off. No matter how amazing your site is and how great your products are, if it does not load within a few seconds, then you will lose a lot of customers.
From the SEO perspective, poor site loading speed also has a negative impact on Google ranking's algorithm. As a result, your website will rank lower, and your website traffic will decrease.
To improve your site's loading speed, the first thing you can do is to choose the best web hosting provider. Choosing a web hosting provider that offers fast loading speed will improve your site's performance. In addition, optimize the images and file sizes of the content available on your eCommerce site.
5. Make Your Site Mobile-Friendly
Believe it or not, many people surf the internet from their mobile due to its portability and ease of use. A good chunk of your traffic uses mobile for surfing your eCommerce sites. This is why you have to make sure that your site is mobile-friendly.
If your website is perfectly optimized for computers and laptops, it does not mean that your website will run smoothly on a mobile interface.
People do preliminary research from their smartphones for eCommerce related to electronics, jewelry, travel, and flowers. As a result, it leads to more desktop searches. Google is also promoting the "Mobile-first" index, which is another great reason for optimizing your eCommerce sites for a mobile platform.
6. Build High-Quality Backlinks
Building high-quality backlinks are one of the most crucial aspects of optimizing a website's SEO. Many experts have implemented various ways of building backlinks that get them authority and traffic.
When it comes to eCommerce SEO, building high-quality backlinks is just as important. Since you are running an eCommerce site, your sites will get recommended by authentic resources. From high authority domains to individual bloggers, you will get backlinks from everywhere if your eCommerce site is amazing.
However, you should not get carried away with the number of backlinks your site is getting. You have to make sure that you are getting backlinks from authentic and relevant sources, and your product's niche should be relevant to those sources that backlinks to your eCommerce site.
You can build high-quality backlinks for your eCommerce site via directory submissions, posting Infographics on social media, and organizing Q/A on platforms like Quora. In addition, you can also consider guest blogging as it is highly acknowledged by search engines.
7. Maintain Site Security
eCommerce sites deal with hundreds of thousands of data on a daily basis. Moreover, these data are users' personal data that contains a lot of confidential information like financial credentials and other bank information. It is important that the website deals with users' data and their own data by maintaining site security.
There is an increase in the number of cyberattacks and scams that take place on eCommerce sites. As a result, people are always concerned about which eCommerce site they should use to purchase products.
To have robust site security, you should have HTTPS and SSL certificate certification so that sensitive data and other important information are safe. Hypertext Transfer Protocol Secure (HTTPS) creates a secure connection between the browser and the server. Similarly, Secure Socket Layers (SSL) add a layer of security for encrypting data.
You can also improve your site security by regularly backing up your site data. In this way, you can always restore your website in case of any data breaching or loss of data. In addition, you can also remind users to change their passwords every once in a while.
8. Include Product Reviews
When you are making an eCommerce site, you have to consider various factors to ensure that your site works properly. In addition, you want your eCommerce site to be engaging and have tons of traffic coming from SERP. Product reviews are one such thing that makes your site compelling and interesting.
Your product page should, of course, contain your products and their descriptions as well as reviews from customers. Make sure that you categorize each section inside the product page so that visitors do not get confused. As an eCommerce site owner, you want your product page to be straightforward and include product reviews.
Google highly acknowledges UGC (User Generated Content); hence you should add a proper field for customer reviews and comments. Many big eCommerce sites like Shopify, Magento, and BigCommerce use their app for customers to add their reviews about products.
9. Implement Schema Markup
Schema markup is a hot topic for SEO due to the ability to tell search engines what your website is about. It helps search engines better understand the context of your products, places, and other things inside of your website. BY doing a proper schema markup, you are serving rich results to your audience.
Apart from the products and places mentioned on your site, schema markup also helps the search engine understand the relationships of the entities that you have included on your site.
Serving rich results leads to rich snippets, and as a result, the click-through rate of your site increases. To execute a proper schema markup of your site, you have to properly use the format of the structuring data. The format can be found on the schema.org vocabulary page.
After doing robust formatting of schema markups, search engines like Google will be able to showcase relevant information in a more presentable way.
10. Internal Linking
We all know that a great eCommerce site should have an excellent site architecture. One of the main factors that improve the site architecture is internal linking.
On your home page, make sure that you add your top-level products and other category pages. Work on your site's visual, and the link to other pages should look prominent and distinctive.
Add pages that relate to the other pages of your eCommerce in one way or another. In this way, you will be able to create links to your other pages, such as product pages, buying section, the home page, and the customer review section.
Google also values pages with internal linking and gives them high authority. Your eCommerce will get more traffic, and the conversion rate will also increase as you will rank higher in search results.
11. Simple URL Structure
Believe it or not, your URL structure is an important factor that makes or breaks your site's performance in organic search. In more common niches, URL structure holds more importance as there is a lot of competition in big niches.
Add your primary keywords to your URL to become more relevant and readable. Moreover, it improves its search ranking.
Using a simple URL structure in more competitive niches will take you long. Optimizing your URL will give you an extra edge over your competitor, and you will rank higher than their website.
12. Social Media Share Buttons
Always add social media share buttons to your eCommerce site. Many benefits come with allowing your audience to share products on their social media. First of all, social media improves your site's SEO, and in addition, it allows the audience to have a deeper connection with your brand.
Many customers consciously look for a social media share button when entering a website. As a website owner, each product in your eCommerce site has a proper and visible social media share button. Customers should be able to share products on social media platforms with ease.
Conclusion
SEO strategies for eCommerce bring more visibility and exposure to your website. The consequence is that you will get more traffic and customers.
Using these strategies will surely improve your eCommerce SEO and give you all the benefits that come with it.