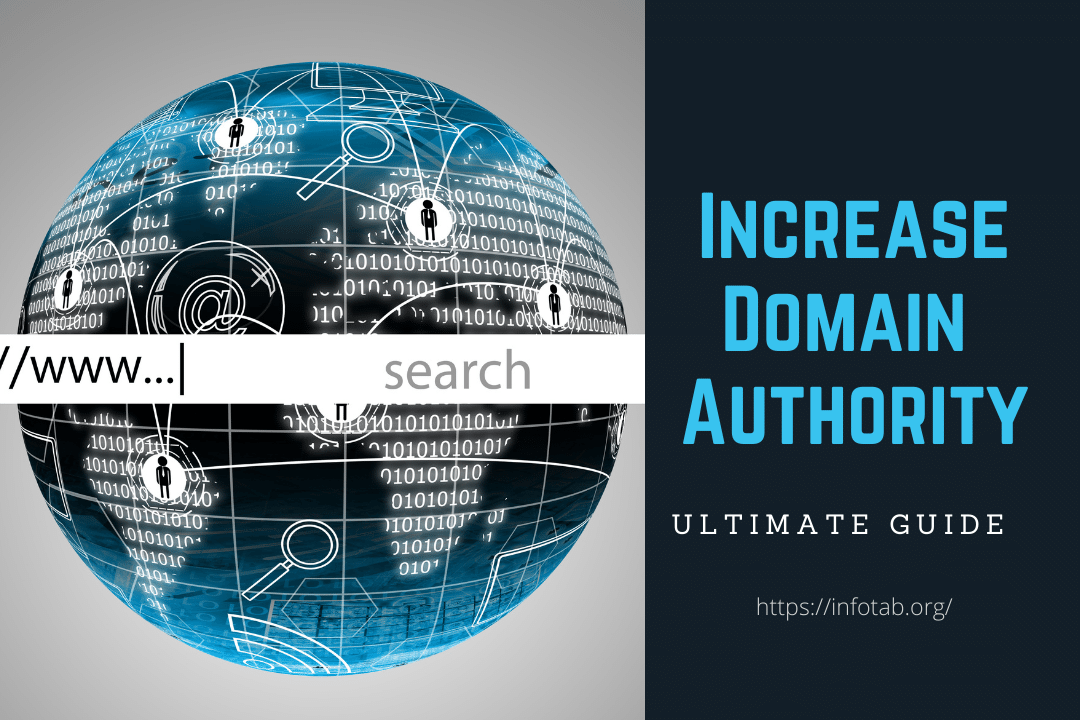 What is domain authority (DA)
Domain Authority (DA) is a ranking score that tells search engines how likely a website is to rank well in search engine result pages. It also gives an indication of the relevance of the site for a specific topic or industry. DA has been created and managed by Moz.com
Domain Authority is calculated based on the number and quality of backlinks from other sites, content quality, age, reputation, and other factors.
Backlinks are the best way to increase domain authority
There are many ways to increase your domain authority, however, nothing compares to the power of good backlinks. Backlinks from other sites carry a lot of weight and can have a huge impact on your rankings.
1. You need to make sure that you receive quality backlinks only from relevant high DA sites which will pass valuable link juice to.
2. The more links you have from high-quality sites, the higher your Domain Authority will be.
3. Guest blogging is a great way to get backlinks and build relationships with other bloggers in your industry.
4. Reach out to influencers in your niche and offer them a free product or service in exchange for an honest review of their work on social media
5. Linking to articles relevant to your site's content can also help boost Domain Authority over time.
6. If you actively update your blog regularly, that too can improve Domain Authority over time because it shows search engines that people trust what they're reading on your website.
7. Develop an authoritative social media presence by interacting with other bloggers and influencers in your niche.
8. Write on Web 2.0 sites and get the backlinks from high DA Web 2.0 sites.
9 . Infographics are a great way to build high-quality backlinks for your site.
10. Remove Bad links: You can remove bad links pointing to your site from search engines.
11. Be active on social media.
12. Respond to mentions in the comments section by influencers in your niche or industry, it's usually great.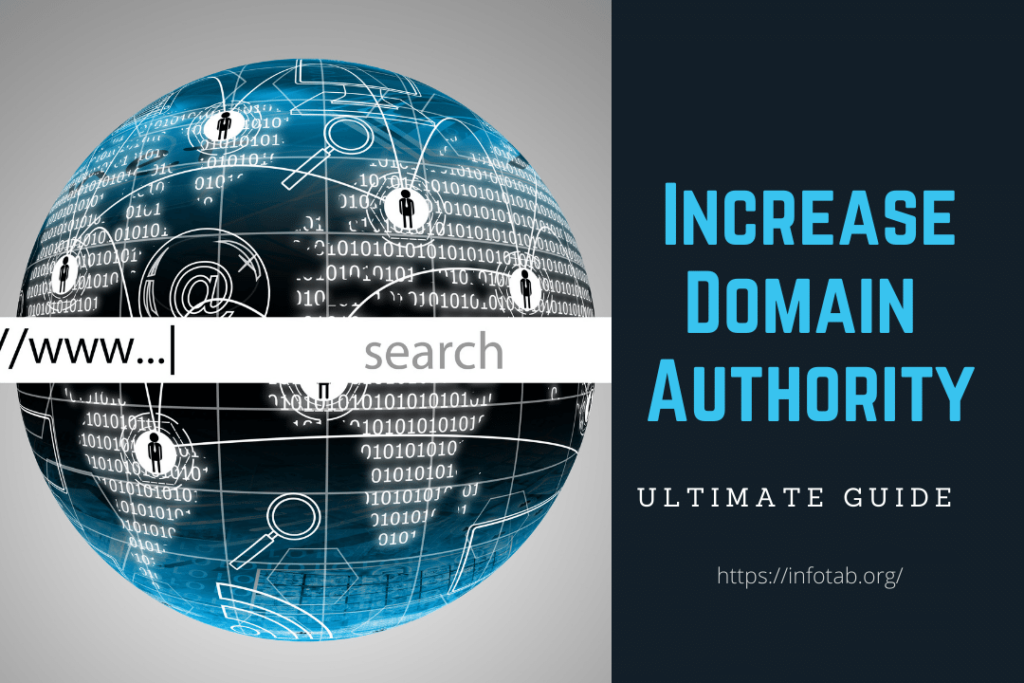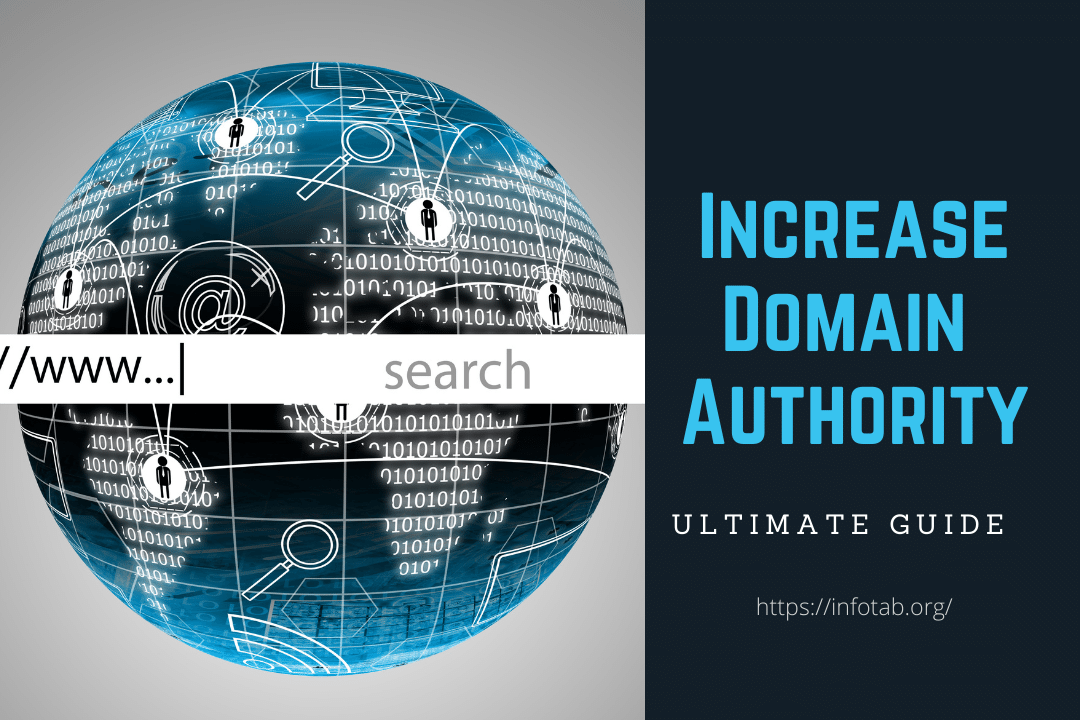 Technical SEO – On-page SEO can boost your Domain Authority
Technical SEO is a subset of on-page SEO. It is the process of making sure that your website meets the technical requirements that search engines are looking for. Technical SEO will help you rank well in search engines but also increase your user experience with your site and increase your conversions.
Steps to follow to improve your technical SEO:
Website loading speed
Website loading speed is an essential part of the user experience on your website. Slower websites will decrease time spent on site, bounce rates, and conversions. With more and more users accessing the internet through their mobile devices, it becomes even more critical for you to ensure that your website loads quickly.
Research has shown that 62% of users abandon a site if it takes more than 3 seconds to load. Additionally, Amazon found that every 100ms decrease in page size resulted in an increase in sales by 1%.
Website layout and design
Make sure that your site has a clear structure and is easy to navigate. By ensuring that you provide clear navigation, labeling page elements correctly, and making it simple for users to find what they're looking for, you'll increase engagement with your website.
Website security
Website security is another essential part of technical SEO. Google will penalize websites that are vulnerable to attacks or contain malware and will even penalize websites that have been hacked resulting in a loss of trust.
To ensure security on your website, make sure you:
Keep plugins up-to-date
Use strong passwords
Use 2-factor authentication
Provide HTTPS encryption for all pages.
Make sure that all plugins are trustworthy by checking who created the plugin and check their reputation online before installing it.
Mobile Optimization
Google has made mobile optimization a ranking factor for all websites. This means that if your website loads slowly on mobile devices, you will not only lose users but could also get penalized.
To ensure that your site is fully compatible with mobiles, make sure you:
Use a responsive design to create a single URL structure for the desktop and mobile pages of your website
Ensure that the text is still readable and all elements are clickable on a mobile device
Make sure that users can easily contact you via a mobile-friendly contact form.
Use Schema Markup to highlight important information on your website
Schema markup allows search engine crawlers to parse out structured data from your website.
404 Redirection :
Use a 404 redirect if you move pages on your website and want to preserve the previous link authority of that page.
Rich Snippets:
Rich snippets are HTML markups that allow search engines like Google and Bing to display additional information about products and services in search results.
What is a good Domain Authority?
A Domain Authority above 50 is considered high. Sites with DA 70 or more are very authoritative and almost always rank well in search engines, even for competitive keywords. A site's domain authority does not have to be particularly high to rank at the top of Google. As long as you follow basic SEO practices, such as creating original content and getting relevant backlinks, you will rank well.
You can find your Domain Authority by entering your website's URL on Moz.com and there are also third-party tools that help you check your DA.
The higher Domain Authority is an indication that the site is trusted and has a high level of visibility on the Internet. A more authoritative domain name helps search engines decide how to categorize websites.
Search engines like google do not use domain authority but they use similar signals to rank your website.
What affects Domain Authority?
There are a lot of factors that influence the Domain Authority of websites and some of them play a bigger role than others when it comes to ranking in Google. The most important factor is the number of quality backlinks a website has.
Is Domain Authority legitimate?
Not all backlinks are equal. Backlinks from sites with high Domain Authority carry a lot of weight with search engines, so those links will have a greater impact on your rankings than the ones coming from low DA websites.
Domain Authority is not a direct ranking factor, and it's certainly not something you can directly influence. Google doesn't share its algorithm with the public, so nobody knows for sure how they weigh different factors when ranking a page.
Domain Authority is also not a fixed number – it changes all the time. For example, let's say you receive an authoritative backlink from CNN or Wikipedia – that could dramatically increase your Domain Authority.
Does Google look at Domain Authority?
No, Google does not look at Domain Authority when it is ranking a website. However, many SEOs believe that DA is an indication of the trustworthiness and quality of the content on your site.
Domain Authority vs Page Authority
While Domain Authority is calculated based on the number and quality of links leading to a domain, Page Authority takes into account factors specific to individual pages.
Page Authority is calculated using the number and quality of links leading to a given page, but also metrics like the usage rate of anchor texts, the words on-page, as well as other factors.
Domain Authority Conclusion
A Domain Authority is a metric that ranks the trustworthiness and quality of content on your site. A high domain authority indicates to search engines like Google, how trustworthy or authoritative your website is.