First of all let us know, what is guest posting? Guest posting is very common in blogging field. Some large blogger website provides new blogger opportunity to publish their blogs on their websites. Also two bloggers of different niche used to do guest posting to each other websites. It is a best strategy to increase your audience and gain popularity.
Here I am going to discuss 5 main advantages which bloggers gets while guest posting.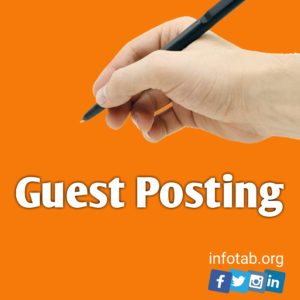 1. Gain New Audience/Readers
For a new blogger there is also big task apart from there blog writing and writing concepts. That is to target a number of audience to read their blogs. Because without proper audience blogs are like of no use. Guest posting provides you a platform to attract audience from others website and make them to know about you. I can say that guest blogging is one of the best strategy to get number of new audience. It also become a way of earning as some blogging websites provides payments to their guest bloggers.
2. Opportunity to connect with new readers
The second most important benefit of guest posting is it provides you better social media interaction as you post a blog on others website in front of new audience. If they will get attracted with your quality post. That will definitely make them visit to your social media profile such as Facebook pages and Twitter that will help you to increase your likes and followers. As much number of followers you will be able to gather on your social media platform, then will become a permanent source to which you can directly reach with your blogs.
3. SEO Benefit
Guest posting helps you to optimise your website on search engine as you will get the popularity in your audience. As much number of people come across your website. It will help your website in search engine optimisation. That means your website will get more priority that directly attracts the readers who want to get idea about the topics related to your blogs by directly searching by keywords. That is also beneficial to your website. If people surf internet with the keywords related to your blogs will be directly redirected to your blogs also this will definitely going to increase your audience traffic to your website.
4. Builds Relation with other bloggers
Guest posting is one of the great way to make a relationship with the other bloggers. Actually relation is the most important thing, if you want to become success in the Internet marketing. Building relationship should be also your one of the focus point in blogging industry. So by guest posting on another blogger's website you will be able to maintain a good relationship with other bloggers. Building relationship will also provides us cross promotion as you will promote other blogs other bloggers will also promote your blogs. It can be said that it about give and take policy.
5. Improves Writing Skills
Guest posting improves your writing skills. If you are a new blogger you will definitely having less or no experience. While making guest posting you will be able to communicate with bloggers, who is having a good experience. That will help you to get their thoughts and way of working, their strategy. Also when you will interact with new audience, their comments. Whether it is positive or negative both will be helpful for your writing skills. As you will able to improve your writing accordingly. For new blogger blog posting on different bloggers website also gives them experience of writing about different things that makes them flexible about there writing.