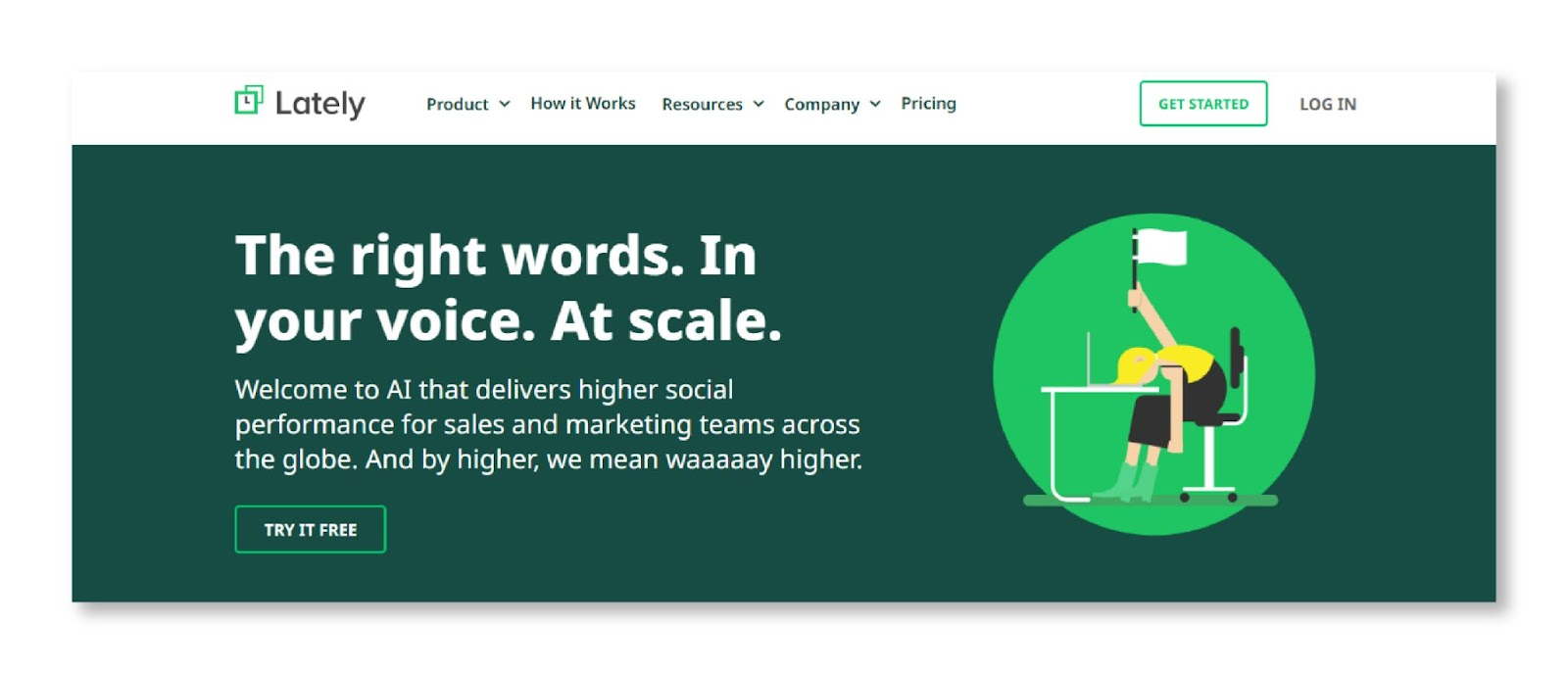 Are you a social media manager or marketer struggling to manage your social media? Need more support with the endless tasks and time-consuming content creation?
Don't worry; AI social media management tools are here to save the day!
Social media marketing has become integral to any successful marketing strategy in today's digital world. Though it's necessary to unleash the power of social media for your business, managing multiple social media platforms efficiently simultaneously can be daunting.
This is where AI-powered social media management tools come in handy. They streamline the whole management process and enhance productivity while providing many other benefits.
In this blog post, we will explore the top 10 AI tools for social media management in 2023, along with their key features, benefits, and pricing information.
Want to manage all your social media platforms in one place? Then SocialBu is for you!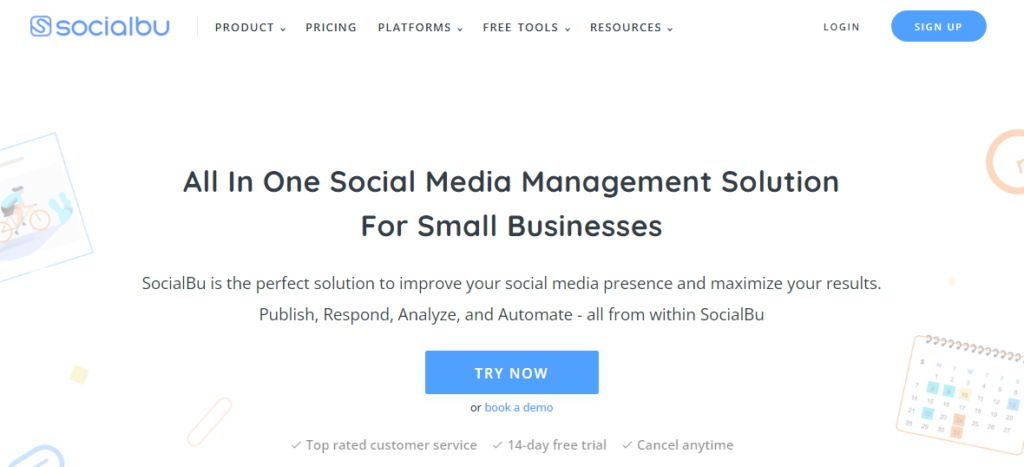 It is an AI-powered social media management tool that offers a comprehensive suite of features. Its easy and effective user interface and navigation procedure make it the top choice for managing social media.
With the help of SocialBu's AI algorithms, you can schedule your social media content for all platforms and manage them effortlessly.
From publishing content to responding to messages/comments and analyzing your performance to monitoring keywords, SocialBu has a lot to offer!
Moreover, its content generation AI feature makes it a must-have social media management tool. You can quickly generate your tweets, LinkedIn posts, and Instagram captions with the help of the SocialBu AI content generator.
Also, with its advanced filtering options, you can find content relevant to your interest on your feed and share it with the world.
Features and Benefits
AI-powered chat assistance (Bu)
Scheduling and publishing content
Help you reach a wider audience
Bulk scheduling and post recycling
AI content generation
Analyze and improve your content performance
Content curation
Collaborate with your team easily
Keywords and hashtags monitoring
All social media conversations atone place (inbox)
Flexible pricing and satisfied clients
Pricing Plans
Free version available with 14 days trial
Standard: $15.8/month
Super: $49.2/month
Supreme: $165.8/month
Crowdfire is for you if you need more content ideas or consistent recommendations.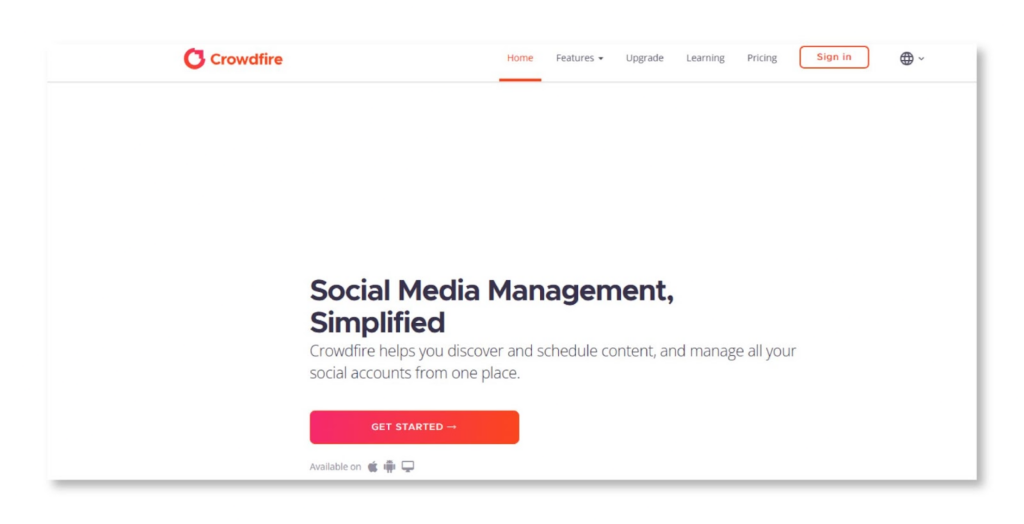 Its AI algorithms automatically recommend relevant content by analyzing the industry trends to share with your audience. This feature helps users curate high-quality and engaging content consistently. It also provides insights for optimizing engagement.
With the Crowdfire scheduling post feature, you can schedule your posts ahead of time across multiple social media platforms. It also helps tailor images for each social media platform and recommends the best time to post them.
Moreover, Crowdfire provides comprehensive analytics and reporting features to track social media performance. You can monitor your social metrics, such as engagement rates, follower growth, and post reach.
These metrics will eventually help you to mold your marketing strategies accordingly and make data-driven findings.
Features and Benefits
Save time and effort by automating various social media management task
Increased audience engagement and interaction
Custom service tool to help you reply promptly and never miss any mention
Customizable scheduling options
Advanced analytics to analyze competitors' accounts, your growth, and ROI.
Tailored content for each social.media platform
Super affordable price plans for individuals and businesses of different sizes
Pricing Plans
Free: Limited features
Plus: $9.99/month
Premium: $49.99/month
VIP: $99.99/month
Buffer is another widely used social media management tool that incorporates AI capabilities. It is simple-to-use and user-friendly interface makes it stand out among other platforms. 
With Buffer, you can schedule and publish content across various social media platforms, analyze performance, and engage with your audience.
Buffer's AI-powered analytics analyze user preferences and industry trends to provide content suggestions that are relevant and engaging. This feature assists you in curating high-quality content consistently.
Buffer's AI assistant helps you get more viral ideas, create posts based on your audience's interests, repurpose content, and keep your followers engaged. This is hands down the best feature of Buffer, helping you build your audience on social media.
Features and Benefits
Team collaboration is easy, allowing multiple users to communicate effectively.
Manage and schedule multiple social media accounts from a single dashboard
Get data-driven insights and reports
Buffer AI assistance helps you get and create more ideas
Affordable pricing plans
Pricing Plans
Free plan: Limited features
Essentials: $6/month per channel
Team: $12/month per channel
Agency: $120/month for ten channels
Cater all your social media needs under one roof with Zoho Social!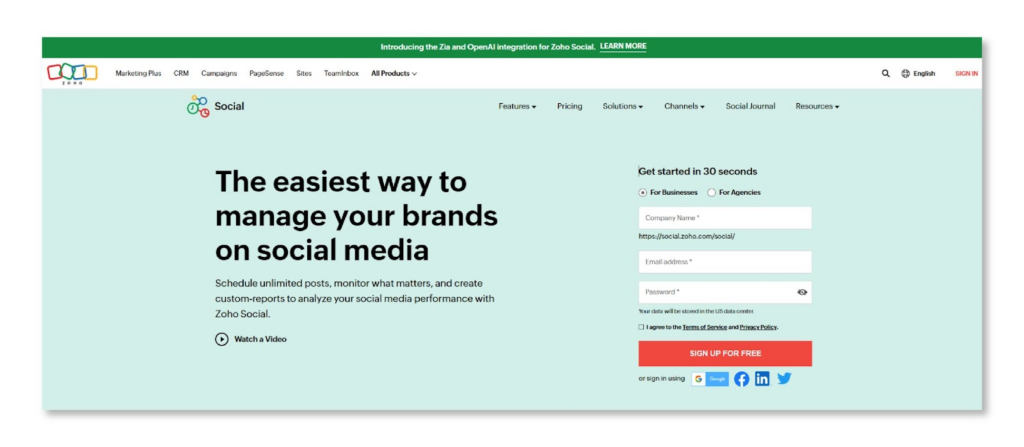 It is an AI-driven social media management tool that meets all the needs of businesses regarding socials.
Zoho offers numerous features and everything you need to level up your social media game. You can schedule content, publish it, recycle it, monitor brand hashtags, and manage all your direct messages in one place.
Zoho also provides robust analytics and custom reporting capabilities to track the performance of your social media campaigns.
Benefits and Features
Easily collaborate with your team
Brands keywords and hashtags monitoring
Monitor social media conversations
Schedule bulk messages
Analysts and custom reports to enhance your performance
Know and discover your audience better
Search and curate content
Pricing Plans
15-day free trial
Standard: $15/brand (9 channels)
Professional: $40/brand (9 channels)
Premium: $65/brand (10 channels
Boost up your social media journey and revenue with Emplifi!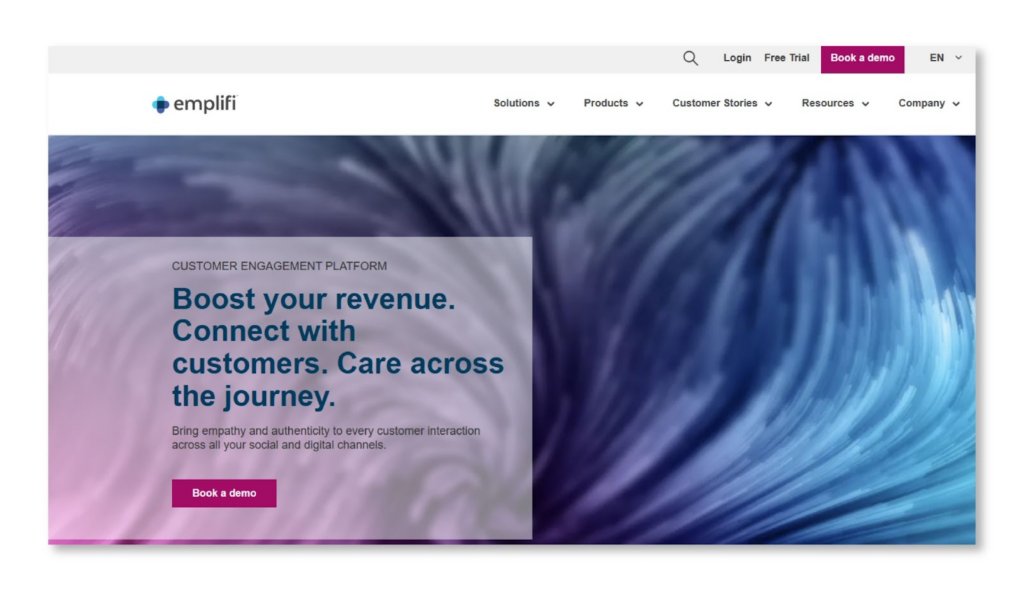 It is an all-in-one AI-powered social media management platform that connects and engages you with your audience on a ground level.
Its other features, like content researching and scheduling, analytics, social listening, and customer engagement, make it a leading tool for social media management.
It also utilizes AI to monitor social media conversations, identify trends, and provide real-time insights. Emplifi offers customizable pricing plans tailored to the specific needs of your business.
Benefits and Features
Use GPT-3 AI technology to generate content and publish effortlessly.
Real-time analytics
Streamline workflows and unite your team in one place
Schedule and publish content across all the main socials
Best for customer engagement
Pricing Plans
Essential plan: $200/month (10 posts profiles/month)
Complete plan: custom price
Take your content creation and collaboration game to the next level with Planable!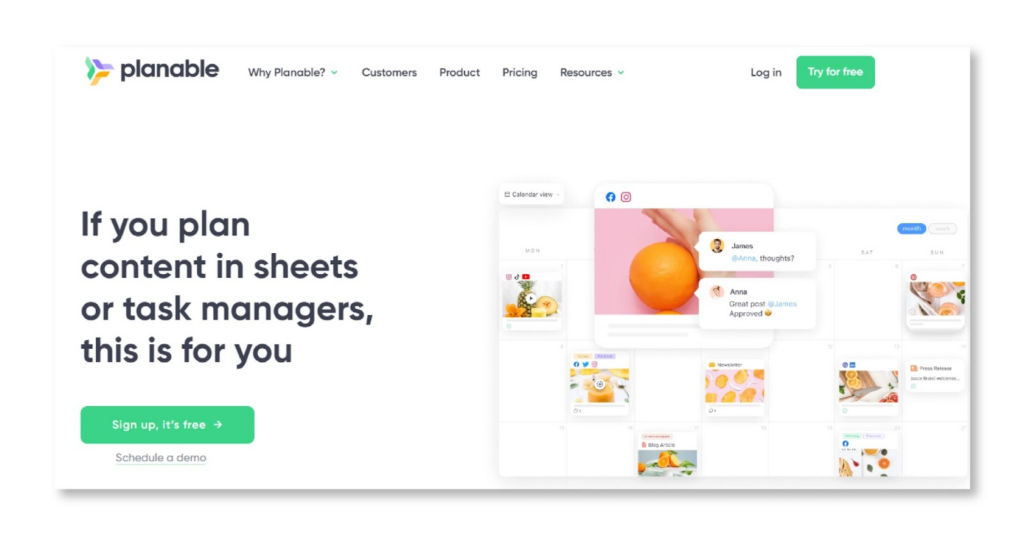 It is another intuitive social media management tool with AI capabilities. It is designed to streamline the social media content collaboration and approval process.
It provides a centralized platform for teams to plan, create, and schedule content. Planable's AI-powered features help automate content suggestions and optimize posting times.
Moreover, Planable integrates with all social media platforms and proposes a personalized solution for your needs.
Benefits and Features
Organize and manage all your content together in one place
Content planning and approval workflow
Automated publishing and syncs
Customized templates for consistent branding
Hassle-free team collaboration and communication
Affordable pricing plan
Pricing Plans
Free: Limited features
Basic: $11/user
Pro: $22/user
Manage and optimize your social media presence with Sprout Social!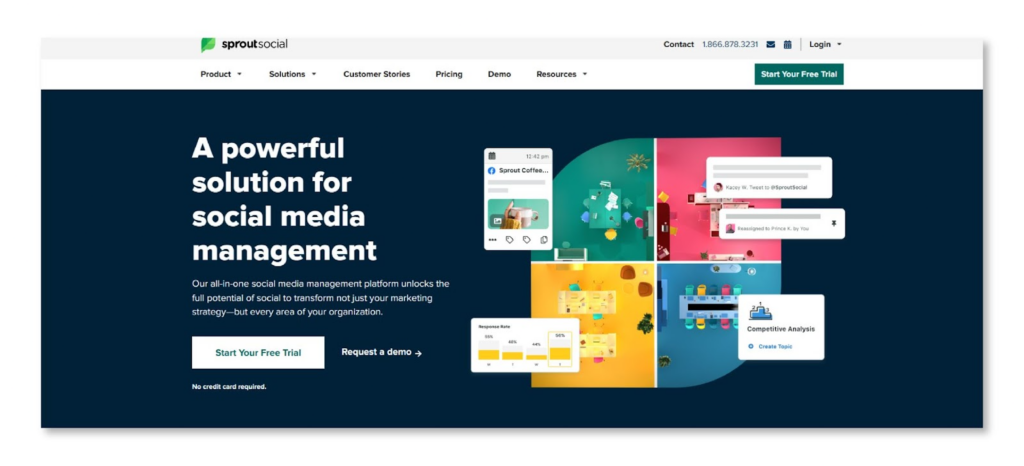 It is a comprehensive, all-in-one AI social media management platform. It combines powerful features with an intuitive interface, allowing you to schedule and publish content, engage with your audience, and gain valuable insights to enhance your social media strategies.
With Sprout Social CRM integration, you can build and maintain strong customer relationships.
Sprout Social's AI algorithms provide insights to enhance engagement, identify influencers, and optimize social media performance.
Benefits and Features
Content scheduling and punishing on all social media platforms
AI-powered social media listening feature, allowing you to monitor and track conversations, mentions, and keywords relevant to your brand.
Robust analytics and customer reports
Integration with popular customer relationship management (CRM) platforms.
Seamless team collaborations
Pricing Plans
Standard: $249/month
Professional: $399/month
Advanced: $4999/month
Visualize your Instagram grid and curate it the way you want with Later!
Later is an AI-enabled social media management tool focusing on visual content planning and previewing, particularly for Instagram. It means you can easily drag and drop images to preview how your feed will look before publishing. 
It offers features like content scheduling, auto-publishing, user-generated content management, analytics, Instagram Story planning, and hashtag suggestions.
Moreover, Later AI algorithms provide content recommendations and optimize posting times for maximum impact.
Later also offers analytics and insights to track the performance of Instagram posts.
With it, you can monitor engagement metrics, follower growth, the best times to post, and other key performance indicators. It helps you understand the effectiveness of your content strategy.
Benefits and Features
Visually plan Instagram feed, schedule posts, and story
Auto-publish content
Instagram hashtag suggestions
AI-based Instagram caption writer
Increase click-through rates with Later's Linkin. bio feature
Get Instagram analytics to improve performance
Integration with other social media platforms
Pricing Plans
14-day free trial
Starter: $18/month
Growth: $40/month
Advanced: $80/month
Make your content scheduling hassle-free with SmartQueue!
It is another AI-powered tool that allows you to effectively plan, schedule, publish, and optimize your social media content. 
SmarterQueue will enable you to schedule, plan, manage, and preview social media posts using a visual content calendar.
With its content categories feature, you can organize your content into different categories and create variations of posts within each category.
This feature helps maintain a diverse content mix and prevents repetition, ensuring a fresh and engaging social media presence.
Moreover, you can recycle your evergreen content and repost it regularly with its evergreen recycling feature. This SmarterQueue feature schedules intelligently and reuses evergreen posts, maximizing the visibility and reach of valuable content.
Features and Benefits
Provides in-depth analytics and reporting tools
Visual content calendar
Various content categories
Content recycling
Discover and curate relevant content from trusted sources (content curation).
Smart queueing system
Monitor relevant hashtags and mentions
Unified social inbox
Pricing Plans
Free version: Yes
Solo: £19.99/month
Business: £33.99/month
Agency: £69.99/month
Make content creation and automation easy peasy with Lately.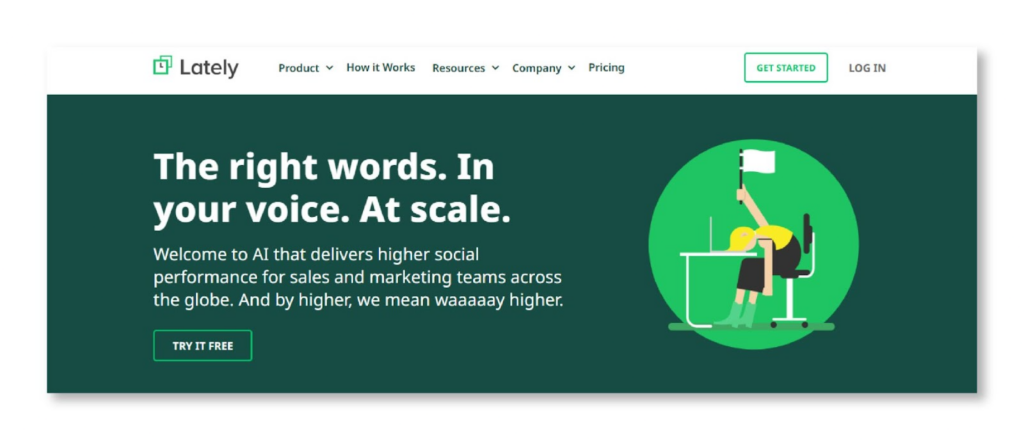 It is the last social media management tool on our list that simplifies and streamlines the process of content creation, management, and publishing across various social media channels.
Lately also offers content scheduling, analytics, and team collaboration features.
Moreover, AI helps you generate engaging social media content by analyzing existing content and identifying top-performing elements.
With its advanced AI-powered content creation, you can create high-quality content and save time and effort. The platform makes collaboration among team members easy by providing a centralized workspace for content creation, review, and approval.
Features and Benefits
Content Automation
Give analytics and reporting to make data-driven decisions.
Workflow collaboration
Content planning and scheduling
AI writing assistant
Pricing Plans
Single-user plan: $179 per user/month
For the Enterprise plan: contact them
Wrapping up
We all know that efficiently managing social media platforms is crucial for businesses and individuals to get the desired results.
Although there are numerous social media management tools, above, we've listed some of the famous ones with AI integration that offer a wide range of features. Research and choose the one that best suits your needs and aligns with your business.
There is no need to put in a lot of manual effort. Harness the power of AI and take your social media management to the next level.