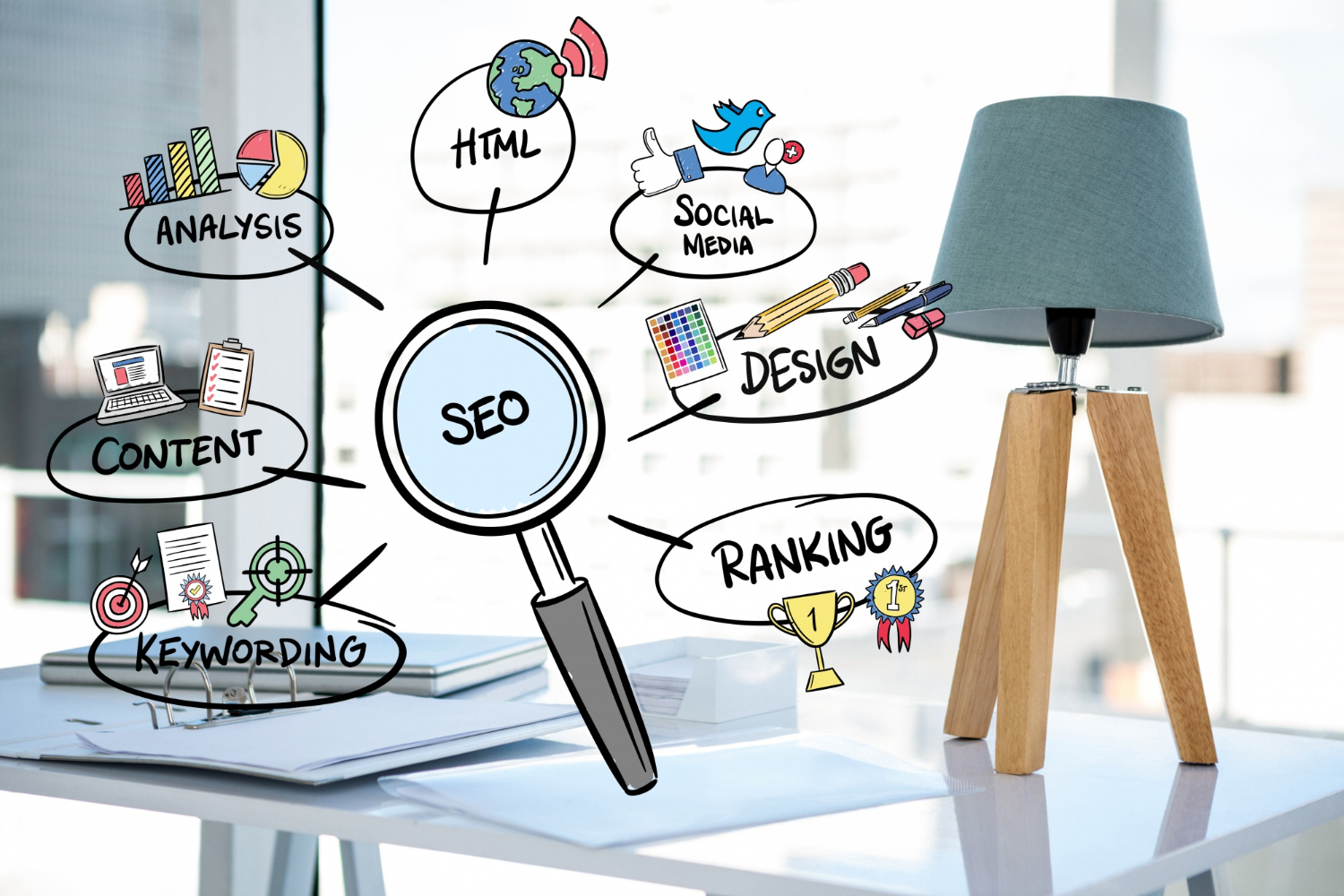 SEO on-page techniques are essential for improving your website's search engine visibility. It will help the search engines better understand your website's content and allow it to rank higher for specific keywords. Meta tags, URL structure, headings, and body content all contribute to a page's ranking. Using the proper on-page SEO techniques will help your website rank better in search engines and increase traffic.
You'll need to implement some of the top SEO strategies to increase your organic search exposure. These techniques include LSI keywords, Anchor texts, images, and site description optimization. You should also focus on engaging your viewers with welcoming, exciting on-page content.
Here are some of the most effective SEO tactics that make hiring an expert SEO agency for your business worthwhile.
1. Anchor Texts with Links
The anchor text is a crucial factor that Google considers when ranking your website. When linking to your website, make sure that your anchor text is relevant to your topic and includes relevant keywords. Google categorizes content based on the anchor text and ranks it accordingly. Avoid using exact matches and brand names in your anchor texts, as this will trigger Google's spam filter.
While it is essential to include anchor texts in your content, there is a fine line between too much and too little. Too much optimization can cause a penalty from Google, which is why over-optimization is discouraged. Google has amended its Penguin algorithm several times and is likely to continue to update it in the future. When the algorithm changes, many brands see their traffic drop dramatically – and this can affect their revenue. Therefore, finding the right balance is vital to your SEO tactics.
The best practice is to provide descriptive anchor texts. Using generic, meaningless text makes the search engine unnecessarily confusing. Instead, use descriptive anchor text to give your visitors an idea of the link. In addition, descriptive anchor text enhances the user experience. It helps them identify your links and navigate your site easily.
Anchor text should include words or phrases in your content that have a direct relation to your website. Make sure they are short and relevant. Anchor texts with links are good outbound backlinks that signal to Google that they are relevant to your site.
2. Optimize Images with Alt Text
Using images is one of the top SEO strategies to help your website achieve higher search engine rankings. Images are more likely to be indexed by Google if they contain alt text. This text is viewable in the cached text version of the page and can be used as anchor text for internal links. In addition to providing a helpful user experience, using images can also help increase your exposure in organic search.
When using images, make sure you name them correctly. Your file name should describe the photo rather than a generic, non-descript name like IMG01534. Use a descriptive title or alt text for your image. Google uses the title and description of the page to rank photos.
Google tries to decipher the image from the page content and the title, so make sure it has one. The alt text helps Google understand which product to display when a user types in a product number. If the image does not have alt text, try adding it with a tool like Ahrefs' Site Audit. Also, make sure to add a caption.
While images are essential for your SEO on-page techniques, it is crucial to make sure they are optimized for the search engines. You must use a suitable file format for your images. This will affect the quality and download time of your page. For example, PNG format is best for screenshots or photos that contain graphics. While this format may take up more space on your page, it preserves the quality of the image.
Another way to maximize the effects of images is to make them responsive to all screen sizes. You can make your images responsive by using @2x syntax on your HTML code. This will help the images scale up well on retina displays. It is also important to include your pictures in sitemaps, which will increase the likelihood that search engines will index them. Several plugins for WordPress can help you with this.
3. Keyword Research
Keyword research is a major topic in SEO techniques, and you can use tools like Semrush to help you find out which keywords are missing from your content. If you don't know which keywords are missing from your content, you can use a tool called the Keyword Gap Tool. The tool will give you a Venn diagram of your missing keywords.
Besides content quality, keywords are also important. Having relevant keywords will give you an edge over your competitors. Using relevant keywords will also allow you to create engaging content. The more relevant your content is, the higher your chances are of landing on the first page. In addition to keywords, you must also optimize your content for a better user experience.
Aside from using the right keyword phrases as part of your SEO tactics, make sure to write content that has value for your target audience. If your content does not provide them with what they're looking for, it will get lower rankings. The same is true of page titles and descriptions. Google will check for these to determine how helpful they are to the searcher.
4. LSI keywords
Using LSI keywords is one of the SEO on-page techniques that can increase your exposure in organic search results and improve your overall revenue potential. You want to use them naturally throughout your content. Avoid keyword stuffing, which will reduce the readability of your content and reduce Google visibility.
When you find a phrase with high search volume and little competition, you can use it as your LSI keyword. One way to find LSI keywords is to use a keyword research tool like Google Keyword Planner. This free tool lets you enter your target keyword and see related terms and phrases.
LSI keywords have become increasingly important for every SEO agency in the USA. Google's algorithm no longer only looks for keywords on your website but also looks at your whole page. The goal of Google's algorithm is to produce the most relevant results based on the context of your content. Without LSI keywords, this would be impossible.
LSI keywords for on-page SEO are closely related to the primary keyword you are targeting. By using these keywords in your on-page SEO content, you will increase your chances of being ranked high in search results. However, the difficulty level of a keyword is directly related to the volume of searches it has. Therefore, the lower the volume of searches, the greater the chance of ranking high in search results.
5. Structured Data
Structured data helps Google understand the content on your website better. It should be an important part of your on-page SEO tactics. For example, if you sell products online, you may want to include specific product details on your page. Without structured data, Google won't be able to understand your product details and show them in the search results. This is why Google often incorporates structured data directly in search results, which are known as rich snippets. This increases the chances that people will click on those results.
Structured data is also known as schema and rich snippets and helps search engines understand the content of your site. This is useful in improving your site's search engine rankings and click-through rates. This technique is often considered the second pillar of an effective SEO strategy and works in conjunction with other SEO techniques, such as content optimization, keyword research, and site design. A good strategy also includes frequent updates to your content.
You can incorporate structured data into HTML code to increase a website's rankings in organic search. Google uses this information to determine how relevant a website is to a user's search query. It's also helpful in improving the user experience.
6. Internal Linking
Internal linking helps Google understand your site better. It indicates to the search engine which pages are important and which aren't. For example, if you have an article on your homepage, a link to it could be on your About page. However, you shouldn't overdo this and cross-link every page on your website. Such SEO on-page techniques can confuse search engines.
A website can improve its rankings by using internal linking. Linking to internal pages will help search engines understand what content is on the page. It also helps to improve the loading time of the site. And internal linking can enhance your site's mobile responsiveness.
7. Title & Meta Tags
When optimizing your website for search, you should pay special attention to your title and meta tags. These two elements can help your website appear higher in organic search results. The length of your title and meta tags can vary, but a rule of thumb is between 55 and 60 characters.
When writing your title and meta tags, be sure to include your core keyword and any related modifiers. Your title and meta tags are the first things searchers will see when searching, so make sure you use keywords that are unique to your page as part of your SEO tactics.
8. Backlinks
Backlinks are an extremely important part of SEO on-page techniques. In fact, a recent study on the subject revealed that links are one of the three most influential factors that influence Google's rankings. Therefore, obtaining as many high-quality backlinks as possible is important.
High-quality backlinks also help your site rank higher on Google. If your site is linked to high-authority websites, the search engine will recognize it as a trustworthy source for information on the topic. The higher the number of high-authority backlinks, the more authoritative your website is considered by Google.
In order to generate quality backlinks, you need to use relevant anchor text in your links. In general, the more keyword-rich the anchor text, the higher the ranking for that link. It is important to note that Google has introduced a filter to protect its users from black-hat link-building techniques. Google's Penguin algorithm targets exact match anchor text, and it wants to see that the websites that are linking to yours are related.
Google uses backlinks to determine which sites are authoritative and which sites have high-quality content. Every SEO company in the USA uses backlinks to increase referral traffic. The more relevant backlinks you have, the more people will click on them and visit your site.
Using backlinks as part of on-page SEO tactics is essential if you want to increase your traffic. You should use relevant keywords and build high-quality backlink relationships. But you should also be aware that Google's algorithm changes on a regular basis, and it is important to stay ahead of them.
9. Outbound Links
The use of outbound links on your website can have a positive impact on your SEO. Google loves to see websites with outbound links because they send readers to other online resources and improve their user experience. Although these SEO techniques can cost you some traffic, they can increase the number of visitors and help you improve your overall site's quality score.
10. Create A Blog
Another tip to increase your organic search exposure is to create a blog. A blog not only provides an excellent medium for communicating with your customers but also boosts your SEO tactics. In addition to being an effective medium for distributing your company's message, a blog can also increase your organic ranking by generating unique content. Additionally, you can share your blog content on social media platforms, which can help you attract future customers.
Conclusion
While on-page SEO is a complex process, it is crucial to optimize your website content in order to increase your organic search exposure. SEO on-page techniques optimize your content so that search engines can better understand it and associate it with relevant keywords. While some local SEO services working for a small business may claim there are more techniques, it is safe to say that the ones listed here are the most important ones.
If you want your site to get higher search engine rankings and traffic, you have to optimize your website's on-page SEO. On-page SEO techniques aim to help Google determine which keywords and content are most relevant to your site. Many SEO tactics go into this process, but the overall goal is to increase your website's chances of being found in organic search results.