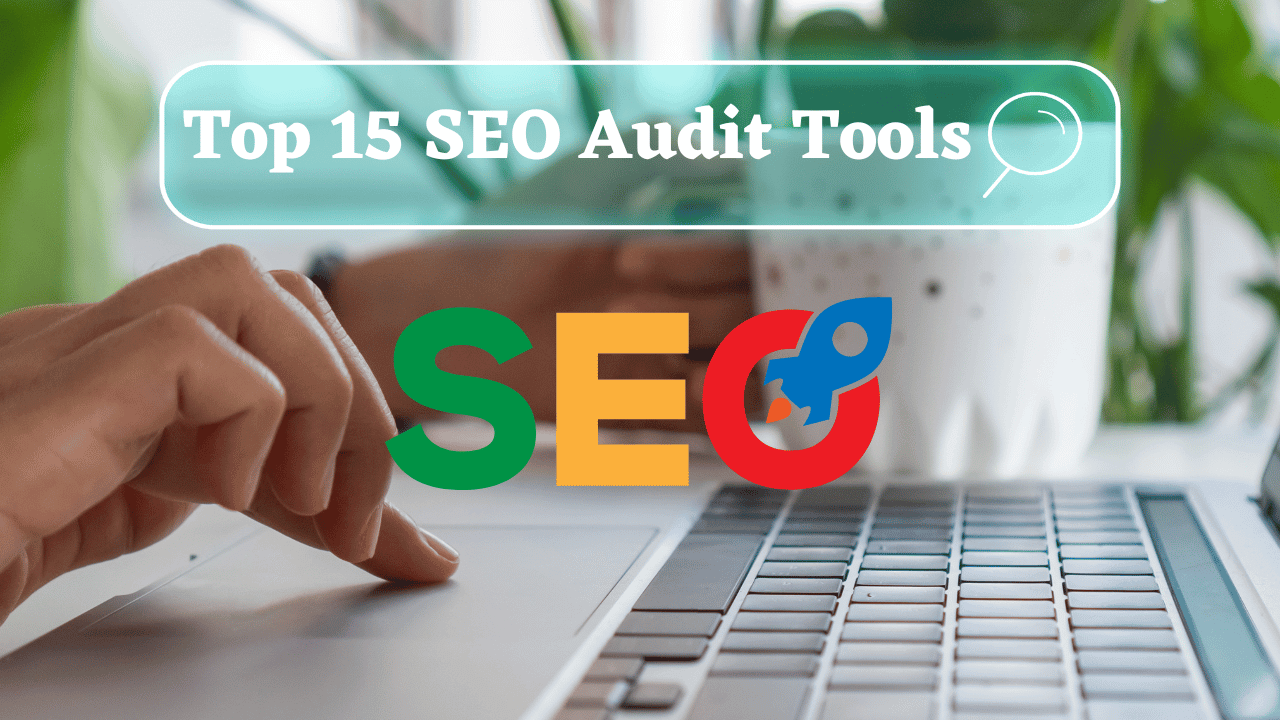 SEO audit tools are essential for website owners, marketers, and SEO professionals. It helps them understand how well their website performs in search engines. Also, it makes it easy for them to identify areas for improvement.
SEO audit tools can help you identify technical issues that could hurt your website's performance. So, choosing a great SEO audit tool is the way to go.
However, choosing one SEO audit among several existing can be troublesome. Therefore, we've made it easy by listing the top 15 SEO audit tools in 2023. Let's check them out.
#1 SEMrush
SEMrush offers a comprehensive SEO audit tool to help you find technical SEO issues and on-page and off-page optimization opportunities. Besides, it is a great SEO audit tool for competitor analysis.
It is an all-in-one digital marketing platform that offers a range of tools. These tools help businesses improve their online visibility and performance. This SEO audit tool also provides comprehensive keyword research.
So, it becomes easy for users to find high-traffic and low-competition keywords. Besides, they can also track keyword rankings and analyze competitor keywords. In addition, it also offers a backlink analysis tool that helps users identify backlink opportunities.
#2 Ahrefs
Ahrefs is an SEO audit tool that can help you find and fix technical SEO issues. Users can also analyze backlinks and identify content gaps and opportunities.
Ahrefs' Site Explorer allows users to analyze their website's backlink profile and identify link-building opportunities. It also offers a site audit feature that helps users identify technical SEO issues on their websites.
In addition, Ahrefs' Content Explorer also helps users find popular content in their industry and analyze its performance. It is popular among businesses and marketers due to its comprehensive features and easy-to-use interface.
#3 Google Search Console
Google Search Console is a free tool. It can help you monitor your website's performance in search results. Besides, website owners can also identify technical issues and optimize the content for search engines.
The performance report is a great feature offered by Google Search Console. This report shows website owners how their website performs in Google search results. Viewers can check the number of clicks, impressions, and average position for specific queries and pages.
Besides, website owners can also check the indexing status of individual pages. Further, they can identify any technical issues preventing the page from appearing in search results.
#4 Screaming Frog
Screaming Frog is a website crawler that can help you identify technical SEO issues. Identifying broken links, missing meta tags, duplicate content, and more becomes simple with this audit tool. It is a desktop-based tool that can analyze websites of any size and complexity.
This tool analyses the website's URL structure and images to ensure they are optimized for search engines. Another great feature of this SEO audit tool is that it can identify any redirect issues, such as broken or incorrect redirects.
#5 Moz
Moz is a great SEO audit tool. It offers a keyword research tool that helps users find and analyze keywords, including keyword difficulty, search volume, and CPC data.
Among several features offered by Moz, users can access the Link Explorer. Moz's Link Explorer allows users to analyze their website's backlink profile. So they can quickly identify and track the link-building opportunities.
It also offers an On-Page Grader tool that helps analyze individual web pages. In addition, it also provides actionable recommendations for optimizing them for search engines.
#6 Yoast SEO
Yoast SEO is a popular SEO plugin for WordPress that helps website owners optimize their website's content. It offers a range of features that allow users to improve their website's on-page SEO.
For instance, Yoast SEO provides content analysis. So, website owners can quickly determine issues with readability and keyword density. It helps users create high-quality content optimized for search engines and easy to read for users.
It also integrates social media, allowing users to set up meta tags. Thus, they can easily optimize their website's appearance on social media platforms.
#7 Serpstat
Serpstat is an all-in-one SEO platform that offers a range of features to website owners. Its Rank Tracking feature allows users to track their website's search engine rankings for specific keywords over time.
This SEO audit tool is also beneficial in helping users to analyse their competitors' websites. So they can identify their keywords, backlinks, and advertising strategies. Serpstat's comprehensive features and user-friendly interface make it a valuable tool for businesses looking to improve their online presence.
#8 Majestic SEO
Majestic SEO is one of the popular SEO tools that can suit your needs. It provides backlink analysis and website reputation monitoring services. Its Site Explorer allows users to analyse a website's backlink profile, including its Trust Flow and Citation Flow metrics. In addition, users can also explore their competitors' backlink profiles.
It also has a Link Context Feature. This feature allows users to analyse the context of their website's backlinks. They can check the anchor text used and the types of pages linking to their site.
This SEO audit tool also provides an API for developers to access their data and integrate it into their applications.
#9 Sitechecker
Sitechecker is an SEO audit and analysis tool that can help website owners immensely. It has all the top features, just like other great SEO audit tools. For instance, it provides an On-Page SEO Checker, Rank Tracker, and website monitoring features.
Besides, it is also helpful in tracking the competitor's website. So, users can use counter strategies to make their website rank. Its ability to analyse technical SEO issues, track search engine rankings, and monitor website performance makes it a popular choice among website owners and SEO professionals.
#10 DeepCrawl
DeepCrawl is an SEO tool that provides website crawling and analysis services to help businesses online. In addition to offering all the features provided by great SEO audit tools in 2023, it offers SEO Alerts.
This feature provides real-time notifications of website issues and opportunities as they occur. Thus, it allows website owners and SEO professionals to quickly address problems and take advantage of new opportunities.
This new feature is handy for businesses that need to respond quickly to changes in website performance or search engine algorithms. DeepCrawl's SEO Alerts can help companies to stay ahead of the competition.
#11 SEO Spider
This SEO audit tool comes with a couple of beneficial features. For instance, it offers Java Rendering, allowing users to see how their website appears to search engine crawlers executing JavaScript. This feature can help identify any issues with JavaScript-based content that may not be visible to traditional crawlers.
SEO spider also integrates with Google Analytics. So, it allows users to access website analytics data directly from the tool. These can help users better understand how their website is performing and identify areas for improvement.
#12 Bing Webmaster Tools
Bing Webmaster Tools helps website owners improve their performance and visibility in the Bing search engine. This SEO audit tool is helpful to verify ownership of a website. So, a website can access a range of website performance and search engine optimisation data.
It also offers a URL inspection feature that allows users to analyse specific pages on their website for potential issues and opportunities.
#13 SEOquake
SEOquake is a browser extension for Chrome, Firefox, and Opera that provides SEO-related information for websites. It gives a SERP overlay that shows key SEO metrics for each result in the Google search engine. You can even check domain age, number of indexed pages, backlinks, and more.
It has social media metrics, including Facebook likes, Twitter shares, and more. Besides, the SEO audit tool's comparison tools help website owners greatly. You can compare SEO metrics for multiple websites at once to identify improvement areas and optimisation opportunities.
#14 Google Analytics
Google Analytics is a free web analytics service provided by Google. It allows you to track and analyse website traffic and user behaviour.
Google Analytics provides real-time reports on website traffic. This SEO tool allows users to see how many people are currently visiting their site, which pages they view, and where they are located.
In addition, it is also helpful in making an audience analysis. Google Analytics provides demographic and interest-based data on website visitors, including age, gender, location, and interests.
#15 Google PageSpeed Insights
It is also an SEO audit tool provided by Google. Google PageSpeed Insights is a free online tool that analyses the performance of web pages on desktop and mobile devices. The tool provides a score out of 100 for each web page, along with suggestions for improving the page's performance and tips to increase organic traffic.
It also analyses the user experience on web pages, including load times, interactivity, and visual stability. The tool provides suggestions for improving these aspects of the user experience.
By providing a range of data and suggestions for improvement, Google PageSpeed Insights can help users identify areas for optimisation.
Conclusion
SEO audit tools are crucial for website owners and marketers in 2023 to ensure that their websites are optimised for search engines. These tools help determine whether websites are providing the best possible user experience.
With the increasing importance of search engine rankings and user experience, SEO audit tools can help identify issues. Thus, website owners can look for areas for improvement.
Many SEO audit tools are available in 2023, each with unique features and capabilities. By utilizing SEO audit tools effectively, website owners and marketers can improve their search engine rankings, increase site traffic, and provide a better user experience for their visitors.