What does a paraphrasing tool do in digital marketing, and which ones are the best? Let's find out.
A paraphrasing tool is a remarkable addition to any writer's arsenal. Today, they play a vital role in any digital marketing setting. Because it's important to churn out original content day in and day out. That's when a paraphrasing tool is the most important tool for anyone.
Bearing in mind that 75% of marketers rely on improving a business' credibility through digital marketing content, it's imperative for that content to be original and unique. Therefore, it's no wonder experts are relying on tools to help them cross that line.
Now, since 72% of digital marketers hail content as their primary SEO tactic, it's also important to understand the role of paraphrasing in general. So, how exactly does a tool fit this narrative? Moreover, what role does paraphrasing play?
Let us dive right into it and find the answers.
What Is A Paraphrasing Tool?
A paraphrasing tool is a content rewriter of sorts. Look at the name "paraphrasing tool," which suggests it's just a program coded to rewrite content on a user's command. Now, the primary elements of paraphrasing include elements such as:
Rewriting without altering the meaning of the text
Changing enough words to render text anew
Rewriting with the purpose of shifting content tone
Using better phrases or terms
Changing active voice to passive or vice versa
These are some of the common elements that writers retort when paraphrasing is required. Imagine if an AI-based program could help you do that, only 100x faster than a human hand?
That's the job of a paraphrasing tool. In order to understand the basics, here are three main purposes of a paraphrasing tool:
Various Content Tone Changes
A lot of the premium-level paraphrasing tools offer content tone changes. These are vital in paraphrasing, as they're the most important factor of various content types. For example, an academic paper's tone would be a lot more formal than a blog post.
An AI-enthused paraphrasing tool makes it easier by employing various content tones. The algorithms help the tool understand the text's current content tone as a user uploads it. Then, it changes it according to the user's command.
Content Analysis & Rephrasing
Content rephrasing and analysis are done through an intricate process, which requires a lot of AI usage. This is where NLP also comes into play, as the computer needs to read the content one wishes to change through the tool.
Once the analysis is complete, the tool begins to rephrase by picking out specific terms or alternatives to the ones in the original text. This process also thoroughly employs AI and changes content according to the user's demand.
Improving Content's Delivery
Contents' tone changes made by a paraphrasing tool don't only change the way a reader's mind perceives it, but they also alter another important thing: the delivery. Delivery in content is everything, as it comes down to how concise it is.
The preciseness of the content can also be a determinant of its success in digital marketing. That's why it's important to understand that content changes made by a paraphrasing tool can also bring changes to content delivery—making it a lot easier to read and comprehend.
Why Should One Use Paraphrasing Tools?
Using a paraphrasing tool is a no-brainer at this point. In other words, you should be using one if you wish to save time, remove plagiarism, etc. On top of that, paraphrasing tools are easily available on the internet, and all you have to do is find the one that suits your requirements.
However, understanding the usage of a paraphrasing tool can be broken down into various sections. So, let's try to understand why one should use paraphrasers by understanding their three main implications:
Duplicity or plagiarism is one of the worst things that any content piece could feature in digital marketing. They can hinder the chances of higher ranks in SERP (search engine results page) and also deny any credibility to the website or blog.
A paraphrasing tool can effectively remove plagiarism or duplicity since they alter content beyond recognition. Granted, they only make enough changes to modify the text, not the meaning. However, upon being used properly, they can help one remove plagiarism and ensure originality.
To Increase Content Quality
Content quality depends on a few things. It's not about how well it's written or researched; it's also about how well the reader can comprehend it. As mentioned before, a paraphrasing tool can do the following to improve content's quality:
Changing content tone
Altering content delivery
Ensuring originality
Using better words
When an AI-enthused program is doing all this to your content, you can rest assured that your content is going to be outstanding. The algorithms know what's best to make content stand out. Therefore, content changed by a paraphraser can stand out with better quality than a human-written one.
Time is of the essence in digital marketing, and you cannot afford to lose any. Now, imagine if you wish to create bulk content for your emails, social media profile, and especially your blog. Can you use the same content without plagiarizing?
Not unless you paraphrase your content for each of those platforms. That's when a tool comes to save your day and, most importantly, your time. That's why you need a paraphrasing tool to assist you in saving time and costs and ensuring that you create bulk content for various platforms.
How Do Paraphrasing Tools Help In Digital Marketing?
Digital marketing is a sum of many things. This includes social media networks, blogs, emails, websites, and other platforms you can imagine. But, the one thing common among them all is the usage of the content.
Written text that's not only made to raise awareness about a brand but sell products, benefits, features, etc. However, this content needs to be of top-notch quality in order to make any impact. So, how does a paraphrasing tool fit this chronicle? By helping you write outstanding content.
Here are 5 ways a paraphraser can help with digital marketing content:
They Help Write Quality Content
Writing quality content with the help of a paraphrasing tool is a lot easier than you'd think. Suppose you're looking to improve the quality by changing content into something better. In that case, you simply need to pick a paraphrasing tool and check for yourself.
Once you change content with any paraphrasing tool, you can see the AI working in full effect, showing you how it's done:

This demonstration helps us understand that even the content we think is virtually perfect can still be improved with the help of a paraphrasing tool. As the text marked in green shows us that a paraphraser can elevate content by simply shifting content around.
They Remove Plagiarism & Ensure Integrity
Plagiarism is one of the biggest challenges for writers today. In digital marketing, plagiarism has many consequences. It can harm the overall quality of content and ruin the credibility of a brand or business. Enter a paraphrasing tool into this scenario, and the problem disappears.
How exactly is that?
A paraphrasing tool changes bulk content within seconds
It changes enough to avoid any claims of plagiarism
It makes content ideal for citation or quotation
These three factors provided by a paraphrasing tool are enough to ensure your content deviates from the original. In other words, they make your content suitable for posting after removing plagiarism from it.
They Offer Various Content Tones For Various Audiences
The content tone is one of the most important factors in the success of any digital marketing strategy. If your content's tone isn't' tending to what your audience likes, then it will be a matter of hit and miss.
The content needs to be adamant throughout your various digital marketing channels, i.e., social media, emails, and blogs. That's when a good paraphrasing tool offers this:
By employing an option like this, you won't only tend to the necessity of proper content tone for your audience but also ensure its eminence.
They Improve Content's Flow
Content flow depends on a few things, and a paraphrasing tool can surely tend to it. For example, what are the traits of a well-flowing text? Here are a few:
It's easy to read
It doesn't offer any jargon or slang
It doesn't use overly complicated terms
It doesn't use recently discovered or invented English words
Lastly, a well-flowing text surely doesn't rely on redundancy. A paraphrasing tool's AI is capable of understanding these elements better than the human mind.
Therefore, it tends to text in a way that humans would take a lot of time to do so. Therefore, it's a necessity nowadays to lean back on a paraphrasing tool to tend to proper content flow—ideal for content marketing.
Improving Readability
Readability is one of the primary traits of good content, and you need it for digital marketing. Before we talk about the paraphrasing tool's role in it, let's understand why readability is important:
Digital marketing content is for a common reader
Content intended for online marketing cannot be complicated or way too formal
Now, suppose the content is way too formal, complicated, or jargon-enthused. In that case, it won't be readable for common audiences in digital marketing. That's when a paraphraser can make it much more readable.
Top 3 Paraphrasers To Use In 2022
To gain all of the benefits and write quality content using a paraphraser, it's imperative to pick a good paraphraser in the first place. But, you don't have to go through that hassle at all, as we've already picked the three best ones you can find in 2022. Here they are:
Paraphraser.IO – The Best Overall
Paraphraser.io is one of the best tools available today for writers. It's not only a paraphrasing tool; it's a complete content creation package for digital marketers. It has other tools that make it a circle of content creation, such as:
Remarkable paraphrasing tool with various content tones
Plagiarism checker
Grammar corrector and summarizer
These various accompanying elements make it an ideal tool for writers around the world. On top of that, the design of this tool is easy on the eyes as well.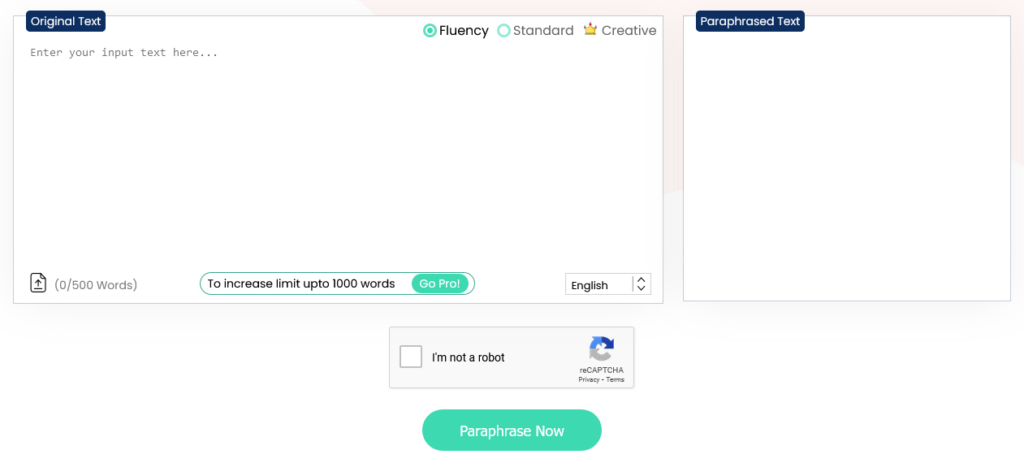 Made for digital marketers and students, this paraphraser can help you formulate or rewrite astounding content without hassle. Making it the best choice for a writer in digital marketing today.
Things That Make It The Best
Natural-sounding content changes
Remarkable use of synonyms and phrases
500-word limit
Accompanying tools
ParaphrasingTool.Org – Good At Alternatives
ParaphrasingTool.Org is yet another tool any digital marketing would be more than happy to employ. This tool has become one of the best at changing bulk content, as it seemingly doesn't have a limit. We tried to rewrite up to 2000-words, and it did so without any issues.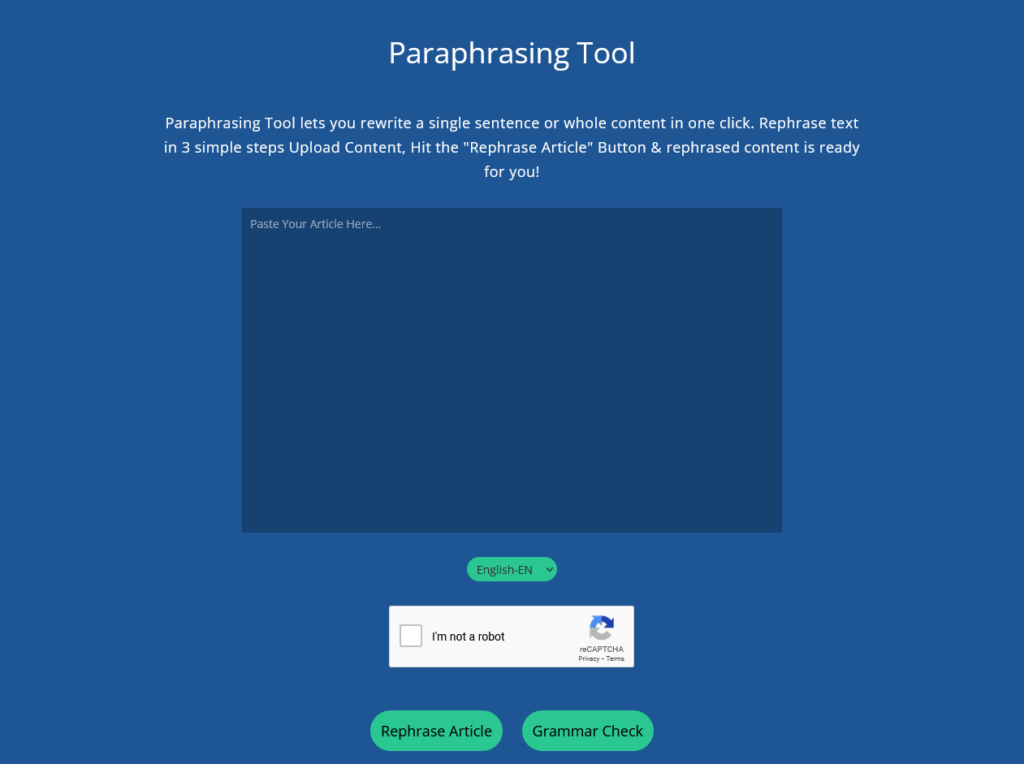 However, the thing that caught our eye was the flowing tone of our content and the alternate words used. So, if for some reason you cannot access Paraphraser.IO, this is the second-best option you have for bulk content creation.
Things That Make It Good
Seemingly unlimited word limit
Very simple UI design
Easy to use
Paraphraser.AI – Levels Of Paraphrasing
Paraphraser.AI is the third one on our list, and it offers various levels of paraphrasing. This tool is for those who are looking to make minor changes to specific chunks or jiffs of their content. While this rephraser doesn't seem to have a limit either, it's ideal for a shorter form.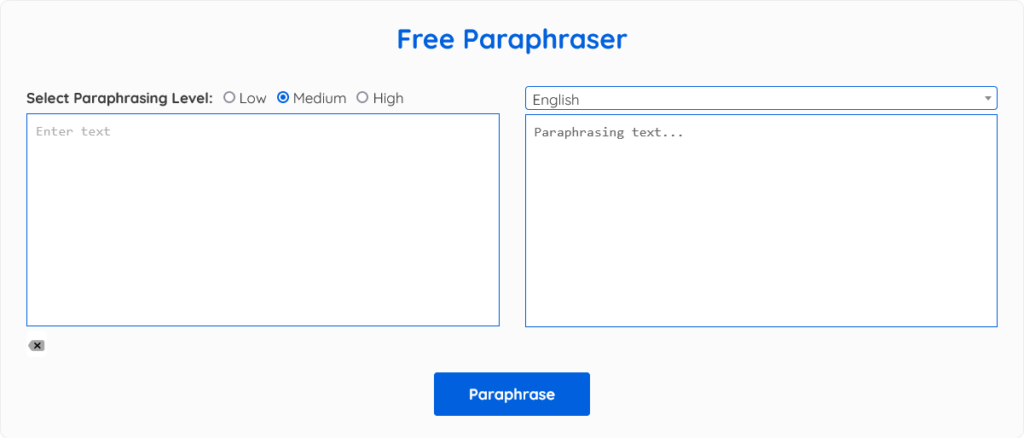 On top of that, you get a paraphrasing level. In other words, the intensity at which you wish for this rephraser to change your content. Making it an ideal tone changer as well as plagiarism remover.
Things That Make It A Good Consideration
Content tone levels
Ideal for changing tone or flow
Conclusion
These are some of the best tools to achieve the best results in digital marketing. On top of that, we also discussed the importance of paraphrasing in digital marketing—and why tools are the best way to do it.