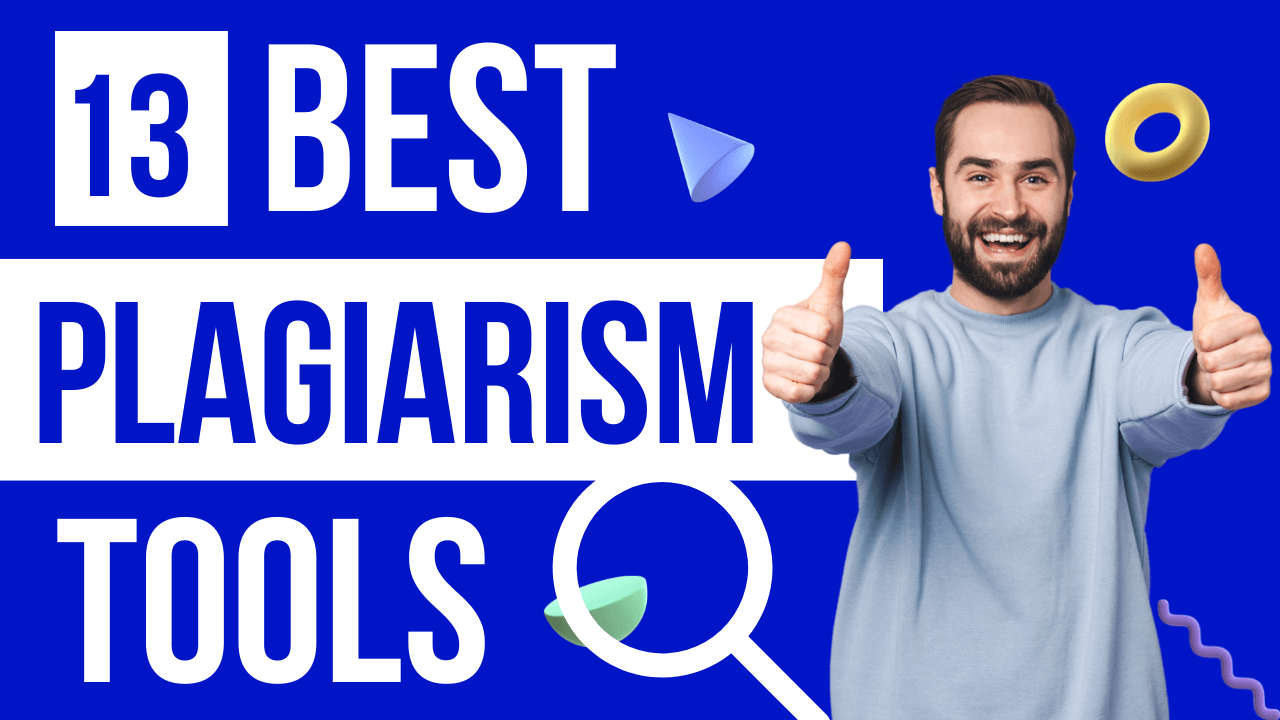 The key to getting on page one of Google is having unique, high-quality content. That way you won't have any problems with plagiarism or being blacklisted by the search engine giants!
In this article, we will find out the best plagiarism checker. We will investigate some of the best free and paid plagiarism checking tools to figure out which one is the best. There are a lot of companies that offer plagiarism checkers but not all of them work.
plagiarism checkers are a great way to ensure the uniqueness of your content. The writing process should be done carefully and with attention, as even intentional sloppy work can cause repercussions like getting caught in an audit or lawsuit down the road! When you're working on a book/content it's important that each sentence is 100% yours; using the plagiarism detectors ensures this will never happen.
How would you check if the content you received from your freelancer is unique and not duplicated? Plagiarism means copying someone else's work and passing it off as your own. This can include copying sentences, paragraphs, or entire articles.
Best Plagiarism Checker
Copyscape
Copyscape is one of the most popular plagiarism checker tools. It lets you find duplicate content and check to see whether your text is original. It is a paid tool, but it offers a lot of features that other plagiarism checkers do not have.
Key Features
Helps you find and fix duplicate content.
Keeps your site from being penalized for plagiarism.
compare two pieces of content side by side.
Plagiarism Checker X
Plagiarism checker X is easy to use and is very accurate. It is one of the best plagiarism checkers for research papers because it allows you to easily compare content in bulk.
Key Features:
Detects plagiarized information through multiple search engines.
Compare the content side by side without any hassle.
Keep your data private.
Import DOCX, DOC, PDF, HTML, and RTF.
Supports multi-language, including English, French, Spanish, Italian, and more.
Grammarly Premium
Grammarly is a cloud-based typing assistant that reviews spelling, grammar, punctuation, clarity, engagement, and delivery mistakes that are meant to improve your writing. It points out mistakes and gives suggestions for how to correct them. Apart from writing enhancement it also offers Plagiarism detection. Grammarly plagiarism checkers are not reliable and most of the users say it works but is not reliable.
Key Features:
Grammarly is a great way to improve your writing.
Avoid the embarrassment of being caught plagiarizing.
You can finally stop worrying about grammar mistakes and focus on what really matters.
Copyleaks
Copyleaks is a plagiarism checker that lets you work with more than 100 languages. Copyleaks can search the internet and different databases to find duplicate content.
Key Features
automated grading tool
integrate with MS Word, Google docs, and more
protect your content
Quetext
Quetext is rapidly growing in popularity and it's one of the best-paid tools for finding out the content's originality. Thesis plagiarism detection software finds text in webpages, news sources, online textbooks, citation generators, and other places.
Plagscan
Plagscan is one of the finest plagiarism checkers on the market. It helps you to establish how much text in your document is matched. This program makes it simple to evaluate the report in PDF or word format. One of the most effective plagiarism software available, Plagscan allows you to collaborate with friends and instantly whitelist or source
It is best free plagiarism checker is Plagiarism. It doesn't cost anything, so you can conduct as many searches as you like. All you have to do is copy and paste your content upto 1000 words.
Plagium
Plagium is a program that helps in the detection of algorithms and content originality. Simply type text into the window to perform a quick search.
Best Free Plagiarism Checker
If you are on a tight budget and can't afford to have a premium duplicate checker tool then you can try these free tools.
Small SEO Tools
SmallSEOTools is a plagiarism detection tool that works with any type of content. It's one of the finest free plagiarism checker programs, and it supports .rtf, ex, .doc, .pdf, .txt, and.odt file uploads. This program may detect duplicate text on numerous web pages.
Duplichecker
DupliChecker is an online service that provides dozens of free, high-grade SEO and content tools. It offers free and premium duplicate content checking. DupliChecker is a simple-to-use program that allows you to look up content on the Internet. It supports numerous file types, including. rtf, txt, tex, docx, doc, and more.
1text
1Text.com free online plagiarism checker will show you an exact percentage that tells you how unique your article is. 1Text offers deep search and high-quality service for free. This is one of the best free Plagiarism checker tools. The only drawback of this tool is that you can only check 2000 words a day.
Other Tools
antiplagiat
Siteliner
plagspotter
Plagtracker.com
Scanmyessay.com
Paperrater.com
Plagiarisma.net
Plagiarismchecker.com
Paperrater
plagiarisma.net
Turnitin
Plagramme
PlagScan
Unicheck
prepostseo
Plagiarismcheck.org
White smoke.
https://www.paraphraser.io/plagiarism-checker
Check Plagiarism without any Tool
If you don't have the budget to buy a premium plagiarism tool you can try the free tools mentioned above. Apart from the tools, you can also check the duplicate content manually by Google and quotation.
Conclusion
plagiarism checkers are a must-have in the digital age. With plagiarism constantly on the rise, it's important to have effective plagiarism detection software that can help you stay ahead of your competition and avoid getting penalized by search engines for duplicate content. If you're looking for high-quality plagiarism checking tools without breaking the bank, Copyleaks, Quetext, and Plagscan are some of the best plagiarism checkers on the market. With these tools, you can be confident that your content is original and plagiarism-free.
What are Duplicate content solutions for the existing site?
There are a number of ways to solve duplicate content issues on your website. One is to use a 301 redirect. This is a permanent redirect that tells search engines and visitors that a particular page has been moved to a new location. Another solution is to use the canonical tag. This tells search engines which version of a page you want them to index. Finally, you can use the noindex tag to tell search engines not to index a particular page.
If your duplicate content is caused by thin content, then the solution is to simply add more meaningful and original content to your pages. This will help your pages rank higher in search results and give visitors the information they're looking for.
Does duplicate content really matter?
Duplicate content can negatively affect your website's ranking in search engines.
What is Plagiarism?
Plagiarism is the act of using someone else's words or ideas without giving credit to the original source. plagiarism checker, This can include copying large passages of text, rewriting someone else's work without attribution, or even stealing images or videos.
While plagiarism is a serious issue, it's also becoming more common online as people copy and paste content from the web. This can create duplicate content issues for website owners who don't realize their site has been plagiarized.
How To Check Plagiarism?
There are a few different ways to check for plagiarism:
Use a plagiarism checker: There are many plagiarism checkers available online. Some are free, while others require a paid subscription.
Google the content: If you're worried that someone has plagiarized your work, you can try Googling a few key phrases from your article or blog post. If you see the same content elsewhere on the web, it's possible that it's been plagiarized.